Will PM Modi, President Xi write a new story for India-China ties?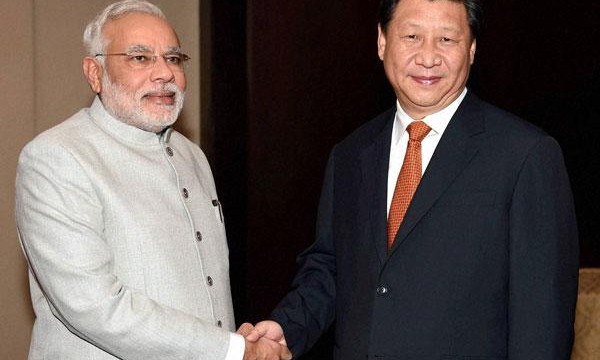 Since the war of 1962, bilateral relationship between India and China has always remained on the edge. Despite efforts to build economic, people-to-people contact and even military ties, the relationship has largely been dominated by a strong undercurrent of trust deficit between the two sides.
The irony of the situation can be well-imagined because at a time when flowery words are flowing in abundance through diplomatic lips on both sides ahead of President Xi Jinping's landing in India today, Indian and Chinese soldiers are engaged in a standoff in the Ladakh sector, which Beijing claims to be its territory.
The Chinese ingress, or rather aggression, is not a small incident as over 200 People's Liberation Army soldiers have crossed into Indian territory and even built a 2 km long road inside. On 10 September, Indian soldiers reportedly destroyed the road but the standoff continues as both sides stay put on their positions. This is a major violation of the Line of Actual Control by the Chinese military after the 2013 Daulat Beg Oldi incident last year.
The negotiations during the Daulat Beg Oldi incident went on for almost three weeks, after which both sides withdrew. Although the Centre and the arm tried to play down the incident, it was obvious the situation on the ground was quite serious.
Chinese intrusions into Arunachal Pradesh have also increased in the recent past. In August last year, Chinese troops reportedly entered over 20 km deep into Indian territory in Chaglagam area of Arunachal Pradesh and stayed there for four days.  report said that "the number of Chinese infringements had reached 334 by August". The corresponding figure in 2013 was 411, while in 2012 it was 426, in 2011 it was 213, and in 2010 it stood at 228, the report said.
India's defence establishment is also well aware that the presence of massive contingents of Chinese military in the Pakistan-occupied-Kashmir is a security nightmare for India as the positioning of troops is very much strategic. Needless to add, India's repeated protests in this regard have simply fell on Beijing's deaf ears.
The soft Chinese aggression towards India is not limited to land alone. Of late, the Chinese naval build up in the Indian Ocean region has given enough reasons for India to worry. Called the String of Pearls, "the network of Chinese military and commercial facilities and relationships along its sea lines of communication, which extend from the Chinese mainland to Port Sudan" threatens to end India's domination in the Indian Ocean region. India literally feels surrounded as the Chinese are heavily investing in developing ports in Myanmar, Bangladesh, Sri Lanka, Pakistan and Maldives.
"The sea lines run through several major maritime choke points such as the Strait of Mandeb, the Strait of Malacca, the Strait of Hormuz and the Lombok Strait, as well as other strategic maritime centers in Pakistan, Sri Lanka, Bangladesh, the Maldives and Somalia…. The emergence of the String of Pearls is indicative of China's growing geopolitical influence through concerted efforts to increase access to ports and airfields, expand and modernize military forces, and foster stronger diplomatic relationships with trading partners…. Although it has been claimed that China's actions are creating a security dilemma between China and India in the Indian Ocean, this has been questioned by some analysts who point to China's fundamental strategic vulnerabilities," a note in Wikipedia said.
China is fast building its naval assets and the indigenously built aircraft carrier Liaoning is one such example of Beijing's deep blue sea ambitions. An alarmed India has inducted INS Vikramaditya but the comparison between the military assets of the two countries—be it land, sea, air or even space— often sends out a chill down the Indian spine.
Away from the military zone, the trading relationship between New Delhi and Beijing is a tad to loo low to cheer about. Although President Xi is arriving with a promise of $100 billion investment over the next five years, the reality of India-China trade ties is of a deficit. Statistics reveal that between 2000-2014, Chinese investment in India stood at a mere $400 million. A Business Standard article has aptly described the India-China trading gap. It said: "An aggressive export policy from China and an equally aggressive policy from importers in India have contributed to India's trade deficit."
Tension in the India-China relationship can be dated back to the Nehruvian era when New Delhi allowed the Tibetan spiritual guru, the Dalai Lama to flee into India from Tibet in 1959. India still supports the Tibetan diaspora strongly, something that has irked Beijing for years. India is well aware of the Chinese hegemony that it is facing in multiple fronts. During his recent visit to Japan, Prime Minister Narendra Modi "deplored the "expansionist" tendency among some countries which "encroach" upon seas of others".
"We have to decide if we want to have 'vikas vaad' (development) or 'vistar vaad' (expansionism) which leads to disintegration. Those who follow the path of Buddha and have faith on 'vikas vaad', they develop. But we see, those having ideas of the 18th century, engage in encroachments and enter seas (of others)," a NDTV report quoted Modi as saying. Although the prime minister refrained from naming any country, foreign affairs pundits felt that it was largely aimed at China as Beijing "is engaged in territorial disputes with a number of its neighbours, including India, Japan and some others including Vietnam".
It is evident that India and China must discuss all issues and do a reality check if the veil of so-called peaceful and normal relationship between the two countries has to be removed forever. Before taking the ties forward, ironing out the manifold differences is an absolute necessity.
Of late, the relationship has got under more duress as the tensions have spilled over other geopolitical regions. India's $100-million export credit for defence deals to Vietnam on Monday and its foray into oil and gas exploration in the South China Sea, which is a territorial dispute between Hanoi and Beijing, has surely added another dimension into its equation with China. India's growing proximity with Tokyo at a time when China is claiming its right on the Japan-controlled Senkaku Islands in the East China Sea will not go off the Chinese radar as well.
Notwithstanding the differences, Prime Minister Modi will host President Xi in a private dinner on the Sabarmati riverfront in Ahmedabad tonight. And the world will be keen to know what the Modi-Xi bonhomie will have to offer after the toast: a dessert for the globe or a wasted hello and bye.
Don't miss the stories
followIndiaVision News & Information
and let's be smart!