Article 370: BJP defends Narendra Modi, challenges Omar Abdullah for debate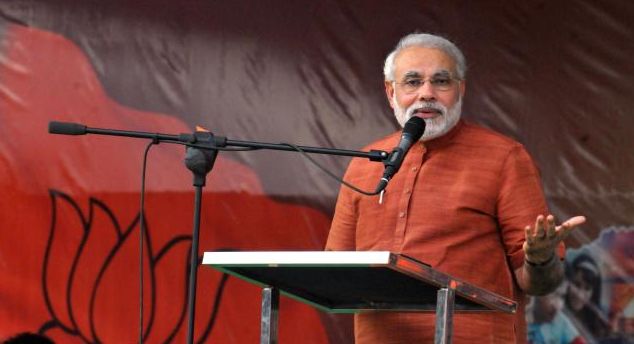 Article 370: BJP defends Narendra Modi, challenges Omar Abdullah for debate
Jammu / New Delhi – State unit of BJP on Monday slammed Jammu and Kashmir chief minister Omar Abdullah for criticizing Narendra Modi over his remark on Article 370 and challenged him to hold a debate over the issue with any BJP leader.
"We accept his (Omar) challenge to hold a debate on Article 370. He must come forward to hold the debate with any BJP leader," state BJP president and MLA Jugal Kishore Sharma told reporters here on Monday.
Omar had on Sunday taken a dig at Modi for his comment to hold a debate over Article 370, saying, "I challenge him or any of his minions to reproduce verbatim the section of Article 370 that determines the J&K state subject law."
Omar wrote on his twitter account that he wondered if Modi was actually aware of the provisions of Article 370 of Constitution, which gives special status to Jammu and Kashmir. Omar also said Modi was either badly informed or economical with the truth.
"Omar is trying to distort facts to mislead and hoodwink the general masses," Sharma said.
The BJP leader claimed that both Congress and NC had "misused" Article 370 to deprive the people of the state of their fundamental rights and promote communalism, separatism and politics of regional discrimination.
Sharma also debunked Omar's attack on Modi that he made a false statement that under Article 370, women in the state did not have the same rights as men. He said the chief minister was "blissfully ignorant" of the role played by BJP to ensure gender equality.
Congress rejects Modi's call for debate on Article 370
Dismissing his call for a debate on Article 370 of the Constitution, Congress on Monday advised Narendra Modi to discuss the issue first with Sangh Parivar, saying there is already "clarity" in the ruling party about it.
Party general secretary Digvijay Singh also said that he "does not take Modi's statement very seriously" as the BJP's prime ministerial candidate "keeps changing" it from one place to another.
Alluding to recent gaffes of Modi in rallies related to historical events, Singh said that the Gujarat chief minister is "unaware of history" and has been speaking "untruth" on many issues.
"As far as my party is concerned, there in clarity on the issue (of Article 370 giving special status to Jammu and Kashmir). If Modi wants to debate, he should debate it within BJP and the Sangh. We have no objection if Modi, BJP and the Sangh debate it within them. We have no objection if they want a public debate…," Singh said.
Union minister Manish Tewari was quick to dismiss Modi's remarks, saying it reveals BJP's doublespeak.
"The manner they speak about Article 370 and Article 371 makes me conclude that they neither read the Constitution of India nor they have cared about detail….
They (Modi's remark) "completely reveal their (BJP's) doublespeak. 10 years ago, five years ago, one year ago you would hear BJP talking about abrogating Article 370. Now they are talking about debate on Article 370," he had said on Sunday.
Don't miss the stories
followIndiaVision India News & Information
and let's be smart!