Barack Obama witnesses India's military might, cultural diversity at Republic Day Parade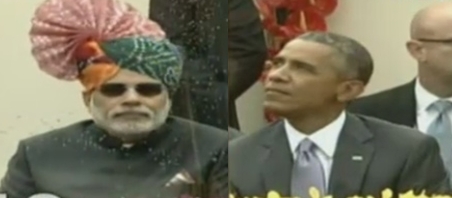 11:59 am: The flypast concludes with another Su-30 MkI carrying out a "Vertical Charlie" manoeuvre over the saluting dais.
11:58 am:  Three Su-30 MkI of No. 2 Squadron carry out a breath-taking Trishul formation over the Rajpath. The Su-30 MkI aircraft split upwards, making a Trishul in the sky.
11:56 am: Five Jaguars flypast in Arrowhead formation, followed by five Mig-29s Air Superiority Fighters called the "Tridents" in Fulcrum style.
11:56 am: Trailing them is a 'Poseidon' formation comprising one P-8I aircraft flanked by two MiG-29 Ks and the "Globe" formation comprising one C-17 Globemaster flanked by two Su-30s.
11: 55 am: The grand finale of the parade begins with a spectacular flypast by the Indian Air Force. The flypast commenced with 'Chakra' formation, comprising three Mi-35 helicopters in 'Vic' formation, followed by the "Hercules" formation comprising three C-130J Super Hercules aircraft.
11:45 am: 'Jaanbaaz', the motorcycle display by the Border Security Force entralls the crowd.
11:30 am: Tableaux from 16 States, 9 central ministries and departments presented the varied historical, architectural and cultural heritage of India.
10:08 am: Floats from Karnataka, Andhra Pradesh, Goa, Madhya Pradesh, Jharkhand, Assam enthrall the thousands presents including the Chief Guest Barack Obama and US First lady Michelle.
10:03 am: India on show at Rajpath as armed forces make way for cultural tableaus.
10: 55 am: The Paramilitary and other auxiliary civil forces contingents from the Border Security Force, Assam Rifles, Indian Coast Guard, Central Reserve Police Force, Indo-Tibetan Border Police, Central Industrial Security Force, Sashastra Seema Bal, Railway Protection Force, Delhi Police, National Cadet Corps and National Service Scheme salute the President.
10:42 am: The Brigade of the Guards, the Grenadiers, the Jat Regiment, the Sikh Regiment, the Kumaon Regiment, the Jammu & Kashmir Rifles, 14 Gorkha Training Centre and the Territorial Army (Punjab) were among the the other marching contingents that are taking part in the Republic Day parade.
10:40 am: The Air Force contingent comprising 144 men, led by Squadron Leader Manvender Singh, salutes President.
10:39 am: All-woman Air Force Officers contingent marches past the dias led by Fl Lieutenant Sneha Shekhawat.
10:36 am: The contingent of Naval officer is being led by Lieutenant Commander Priya Jayakumar.
10:35 am: Navy contingent comprising 144 young sailors be led by Lieutenant Commander Sandhya Chauhan salutes the President.
10:21 am: Pinaka and Brahmos missile system regiments give salute President Pranab Mukherjee.
10:19 am: Armoured regiments move down the Rajpath. The contingent is led by T-90 tanks.
10:17 am: Param Vir Chakra winners Subedar Major & Honorary Captain Bana Singh (Retd), Subedar Yogendra Singh Yadav, 18 Grenadiers and Naib/Subedar Sanjay Kumar, 13 JAK Rifles and Ashok Chakra winners Major General Cyrus Pithawalla, BGS (Trg), HQ Southern Command, Lieutenant Colonel Jas Ram Singh (Retd), Ex-Honorary Naib Subedar Chhering Mutup (Retd), Hukum Singh and Govind Singh both from district Chhatarpur, Madhya Pradesh and Bhure Lal of district Guna also from Madhya Pradesh follow the Deputy Parade Commander on Jeeps.
10:13 am: Republic Day parade begins, It is being commanded by Lt General Subroto Mitra, General Officer Commanding, Delhi Area. Major General Abhay Krishna, Chief of Staff, Delhi Area is the parade Second-in-Command.
10:08 am: Naik Neeraj Kumar Singh of 57 Battalion of the Rashtriya Rifles (13 Rajputana Rifles) was also award the Ashok Chakra. The officer while leading a search operation in general area Gurdaji of Kupwara district of Jammu & Kashmir on August 24, 2014 came under heavy fire from terrorists which hit one of his buddy. With utter disregard for his personal safety, Naik Neeraj Singh crawled and extricated his buddy. A terrorist threw grenades and brought heavy fire on Naik Neeraj but in a very daring act he inched closer to the terrorist and shot him dead. Simultaneously, he was attacked by another terrorist resulting in dropping of his rifle and was shot in the chest. Despite grievous injuries, displaying unparalleled courage, he pounced on the terrorist, snatched his weapon and killed him in hand to hand combat. He refused to be evacuated till he became unconscious and was later evacuated but he succumbed to his injuries.
The award was received by the braveheart's wife  Parameshwari Devi.
10:05 am: President Pranab Mukharjee awards nation's highest peacetime gallantry award to Major Mukund Varadarajan of 44th Battalion of the Rashtriya Rifles (22 Rajput) posthumously (announced earlier on  August 15, 2014) for showing exceptional bravery and courage while leading an anti-terrorist operation in a village of Shopiyan district of Jammu and Kashmir on April 25, 2014. During the operation, before attaining martyrdom, Major Mukund Varadarajan, displayed exemplary leadership skills, raw courage, planning and swift action which culminated in the elimination of three top ranked Hizbul Mujahideen terrorists. The honour was received by his wife Indu Mukund.
10:02 am: President unfurls the National Flag as the National Anthem is played with 21 gun salute.
10 am: President Pranab Mukherjee arrives. Prime Minsiter Modi escorts him to saluting dais.
9:56 am: Chief Guest Barack Obama along with his wife Michelle arrive; warmly received by PM Modi.
9:54 am: Vice President Hamid Ansari and his wife Salma Ansari arrives.
9:47 am: President Pranab Mukherjee leaves Rashtrapati Bhavan for Rajpath. He will be welcomed by Prime Minister Narendra Modi at the saluting dais.
9:39 am:  Prime Minister Shri Narendra Modi arvives at Amar Jawan Jyoti. He will lead the nation in paying homage to the immortal soldier by laying a wreath. An eternal flame burns at the Amar Jawan Jyoti to commemorate the courage of our armed forces personnel who have made the supreme sacrifice in the service of the motherland.
9:33 am:  Defence Minister Manohar Parrikar arrives at the Amar Jawan Jyoti at India Gate to pay homage to  martyrs.
India is celebrating its 66th Republic Day. The biggest of the celebrations is being held at the Rajpath where the country's military might and cultural diversity will be on full display as part of the Republic Day parade.
US President Barack Obama is the chief guest. He is the first US president to have been conferred the honour.
He was invited to be the chief guest at the parade by Prime Minister Modi – the invitation is considered as one of the biggest honours India can bestow on a foreign leader.
The invitation came soon after Modi visited the US late last year and highlighted the growing closeness between the two world leaders
The Republic Day parade celebrates the adoption in 1950 of the Indian Constitution — the day that India became a republic — three years after gaining independence from Britain.
An unprecedented security cover has been put in place.  The area has been declared a no-fly zone and snipers will be positioned on rooftops along the route, where 15,000 new CCTV cameras have been installed.
Later on Monday, Obama and Modi will make a joint address to CEOs in an event organised by the US-India Business Council.
Obama had been scheduled to visit the Taj Mahal on Tuesday with First Lady Michelle, but his trip has been cut short to allow him to travel on to Saudi Arabia and pay respects to new King Salman.
Don't miss the stories
followIndiaVision India News & Information
and let's be smart!