Fodder scam case: Lalu Prasad Yadav sentenced to 5 years in jail,ceases to be MP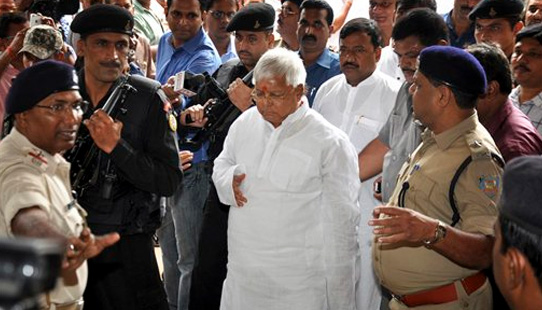 Fodder scam case: Lalu Prasad Yadav sentenced to 5 years in jail,ceases to be MP
RANCHI – Rashtriya Janata Dal leader and Member of Parliament Lalu Prasad has been sentenced to 5 years in jail in the fodder scam case, according TV reports. He has also been asked to pay a fine of Rs 25 lakhs.
Earlier, the quantum of sentence awarded to Mr Prasad, former Bihar chief minister Jagannth Mishra and others convicted in a fodder scam case began at 11 a.m. in a Special CBI court here Thursday.
Lalu Prasad, Jagannath Mishra and 43 others were convicted in a fodder scam case RC 20 A/96 related to fraudulent withdrawal of Rs.37.70 crore from Chaibasa district treasury. After the division of Bihar, the district is now in Jharkhand.
The CBI court on Sep 30 convicted all the 45 accused, including Lalu Prasad, in that fodder scam case. Eight accused were sentenced to three years in prison and slapped with fine up to Rs.50 lakh.
Rabri Devi, the wife of Lalu Prasad, exclusively told Zee Media that there was no evidence against her husband in the fodder scam case. Calling it as a conspiracy by his opponents, the former Bihar CM said the RJD would fight the verdict electorally. Asked who would run the party affairs now, an angry Rabri Devi said Lalu Prasad would stay at the helm of the affairs.
3:20 pm: Kirti Azad hails 'landmark judgement'
This is a landmark judgement. As you sow, so shall you reap, says BJP MP Kirti Azad on Lalu sentence.
3:06 pm: CBI lawyer on Lalu's quantum of sentence
Outside the court, the CBI lawyer said the judge felt it was necessary to sentence Lalu to five years in jail. This is the decision of the honourable court.
3:05 pm: Uma Bharti alerts corrupt leaders
On microblogging website Twitter post Lalu's sentencing, firebrand BJP leader Uma Bharti tweeted: "Be alert, corrupt leaders. Be ready, nobody can save you."
3:03 pm: 'RJD workers not demoralised'
We're not demoralised by the sentencing, says RJD's Ram Kripal Yadav, adding the party expected this right at outset.
3:02 pm: How can Lalu lose his Lok Sabha seat, asks SP
Underlining that Lalu can appeal in higher courts, Samajwadi Party (SP) leader Naresh Agarwal says how can the RJD chief lose his Lok Sabha seat only by the lower court's verdict. It's wrong, adds Agarwal.
2:56 pm: 'No leadership trouble within RJD'
Ruling out any leadership trouble within his party, senior Rashtriya Janata Dal leader Raghuvansh Prasad Singh said the RJD will appeal against Lalu's conviction in higher court.
2:55 pm: 'People will be scared after Lalu's verdict'
Congress Party leader Jagdambika Pal says Lalu's verdict will act as a deterrent for the political parties in future. MPs/MLAs will know they may lose post for their wrongdoings, he adds.
2:47 pm: 'Lalu Prasad remains RJD's top leader'
RJD spokesperson Manoj Jha says Lalu Prasad remains the party's top leader. His sentencing will not affect the party's morale. "We've never been as united as we are now. Our support base remains solid," added Jha.
2:43 pm: 'Lalu's sentence will affect RJD'
Reacting to the quantum of sentence on Lalu, JD(U) MP Sabir Ali said he does not think it will have more consequence for the Bihar politics as much as for the party.
2:46 pm: Lalu ceases to be MP
With Thursday's sentencing, Lalu Prasad, the founder leader of the Rashtriya Janata Dal, becomes the second politician to lose membership of Parliament in line with a Supreme Court ruling.
2:45 pm: Lalu Prasad sentenced
Former Bihar CM Lalu Prasad Yadav gets five years in jail in the fodder scam case. He has been slapped with a fine of Rs 25 lakh. Another former CM Jagannath Mishra gets four years in jail.
2:35 pm: Court awards 5-yr imprisonment to BN Sharma
The CBI court awards five-year imprisonment to former district animal husbandry officer BN Sharma and imposes Rs 1.5 crore fine.
2:30 pm: Lalu arrives in Ranchi jail's court room
Lalu Prasad Yadav arrives in Ranchi jail's court room for sentencing in fooder scam case along with the other convicts.
2:15 pm: RJD to hold meeting on October 06
The RJD will hold a crucial meeting at the residence of Lal's wife, rabri Devi. The October 06 meeting will be aimed at nominating the successor of Lalu as well chalking out the party's future course of action.
1:50 pm: Sentence to be announced at 3:00 pm
Special CBI judge Pravas Kumar Singh is likely to pronounce the punishment at 3 PM through videoconferencing. The 65-year-old Prasad and other convicts are currently lodged in the Birsa Munda Central Jail of Ranchi.
12:35 pm: Raghuvansh Prasad Singh backs Lalu
Senior Rashtriya Janata Dal leader Raghuvansh Prasad Singh alleges that the UPA's decision to withdraw the ordinance on convicted politicians is a conspiracy by the Congress, BJP and Janata Dal (United) to ensure that Lalu Prasad Yadav is framed in the fodder scam case.
Singh, who was talking to media ahead of Lalu's sentencing in a fodder scam case, said: "The BJP wants that Laluji should be framed and try to gain political mileage out of it. The JD (U) also took into account the fact that it will gain if Laluji goes to jail."
12:10 pm: CBI demands maximum punishment for Lalu Prasad
The Central Bureau of Investigation seeks maximum prison term of up to seven years for Lalu Prasad and other convicts. "We argued that he (Lalu) be awarded strictest punishment so that it be a lesson for others," says BMP Singh, CBI lawyer.
Also Read: Lalu Prasad – Priosner number 3312 in Birsa Munda Jail
11:40 am: Arguments conclude
Arguments on the quantum of sentence to RJD leader Lalu Prasad and 36 other accused in the fodder scam case complete in a special court in Ranchi with the CBI seeking maximum prison term of up to seven years for them. Lalu's counsel demands minimum sentence for the RJD chief keeping in mind his conduct and good performance as the then railway minister. The counsel also argued that the former Bihar CM is an eminent, senior citizen.
Jagannath Mishra's lawyer demands minimum punishment for him, citing poor health and old age.
Also Read: Lalu Prasad convicted in fodder scam: Key facts and timeline
11:25 pm: Arguments begin on sentencing of Lalu Prasad
Arguments on the quantum of sentence to be awarded to Rashtriya Janata Dal chief Lalu Prasad Yadav, former Bihar chief minister Jagannth Mishra and others convicted in a fodder scam case begin in a Special CBI court in Ranchi.
Don't miss the stories
followIndiaVision News & Information
and let's be smart!