Former Indian prime minister Atal Bihari Vajpayee Indian politics most valuable person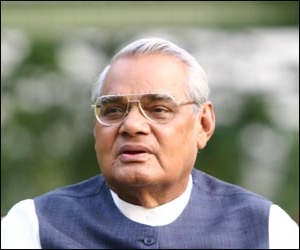 Former Indian prime minister Atal Bihari Vajpayee Indian politics most valuable person
New Delhi – Offering his warm wishes to former Indian prime minister Atal Bihari Vajpayee on his 89th birthday, Bharatiya Janata Party (BJP) president Rajnath Singh described Vajpayee as Indian political history's most valuable person and added that he is being respected, not just by the BJP, but, also other parties.
"I, on the behalf of whole party, would like to wish him on his birthday and would pray for his good health and for his future," said Rajnath Singh.
"Vajpayee is one of the most valuable people of Indian history. He has been successful in getting praise from all opposing parties. He is respected, not just in India, but also in the whole world for his persona and achievements," Singh said.
"During his time as Prime Minister of India, he established a paradigm of good governance in the country. During his six-year period in office, the NDA Government was exemplary on the parameters of good governance," he added.
Regarded as one of the pillars of the Bharatiya Janata Party (BJP), Vajpayee has been a stalwart in the Indian political arena for over six decades.
Vajpayee served as the tenth Prime Minister of India, three times – first for a brief term of 13 days in 1996, and then for two terms from 1998 to 2004.
After his first brief period as Prime Minister in 1996, Vajpayee headed a coalition government from March 19, 1998 until May 19, 2004. A parliamentarian for over four decades, Vajpayee was elected to the Lok Sabha a record nine times, and to the Rajya Sabha twice.
He served as the Member of Parliament for Lucknow, Uttar Pradesh, until 2009, when he retired from active politics due to health concerns. He is a gifted orator and also a poet.
Vajpayee began his political career with the RSS, the ideological fountainhead of the BJP.
Born into an upper-caste family on December 25, 1924, Vajpayee was detained by police during a protest against British rule in 1942 and during emergency rule imposed by late Prime Minister Indira Gandhi in the 1970s.
He was elected to Parliament for the first time in 1957.
Don't miss the stories
followIndiaVision News & Information
and let's be smart!