Harshvardhan congratulates Kejriwal; doubts alliance with Congress will last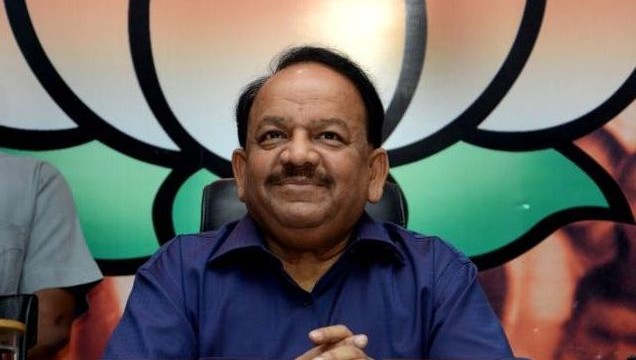 Harshvardhan congratulates Kejriwal; doubts alliance with Congress will last
New Delhi – Bharatiya Janata Party (BJP) leader Harshvardhan on Saturday said that alliance between the Aam Aadmi Party (AAP) and the Congress was not going to last long.
"We congratulate Arvind Kejriwal for taking the oath as Delhi Chief Minister and hope that they are able to govern Delhi for five years but according to political experts we have came to know this alliance is not going to last long," said Harshvardhan.
"We want him to fulfill all the promises he made to the people in his speeches and manifesto. He had said that they would solve all the issues as soon as he became the CM, so people are desperately waiting for that to happen," he said.
We want free water, regulation of unauthorized colonies, and reduction in prices of electricity for the people of Delhi as promised by the AAP," he added.
Commenting on the rise of CNG prices a day before the swearing in ceremony of Arvind Kejriwal as the chief minister of Delhi he said Kejriwal and his party were responsible for it.
"The AAP and Kejriwal are 100% responsible for the rise in pries of CNG gas No other person or party would dare to do that. It is a kind of a betrayal with the public," he said.
He further added that it is not that his party lost the elections in Delhi as they won a majority of seats in Delhi.
"We have emerged as the biggest group with public mandate but we did not want to form coalition government with a corrupt party. So, you can't say we didn't win," he said.
Aam Aadmi Party (AAP) leader Arvind Kejriwal was sworn-in as the seventh chief minister of Delhi at noon on Saturday by Lt. Governor Najeeb Jung.
Along with Kejriwal, six other AAP MLAs were also administered oath of office and secrecy.
The swearing-in ceremony was witnessed by tens of thousands of people, a majority of them AAP supporters, who cheered boisterously as the oath was taken. They also waved coloured balloons and the tricolor.
Earlier, Kejriwal and AAP MLAs traveled to the formal swearing-in ceremony at Delhi's Ram Lila Ground on the Delhi Metro.
Kejriwal becomes Delhi's youngest chief minister today at the age of 45.
After the oath-taking ceremony, Kejriwal and AAP legislators will hold their first cabinet meeting. They are expected to work on Sunday as well.
He has been asked to prove his majority in the state assembly by January 3.
His first big challenge is to grapple with a 10 per cent hike in CNG prices, announced on Thursday.
Auto drivers in the city, who form a huge section of his supporters, have threatened a strike.
Kejriwal said yesterday he would see if the hike could be reversed. If that's not feasible, he said, auto fares are likely to increase.
The former Indian Revenue Service official has promised to disassemble Delhi's VIP culture. Neither he, nor other AAP lawmakers will use the flashing red lights that give politicians' cars the right of way on roads. They have also refused large government bungalows and say they want small flats as their official accommodation.
It was those principles and a declaration of war against corruption that gave AAP 28 seats and a second place finish in the December 4 elections.
The BJP and allies got the most — 32 — while the Congress finished third with just eight seats.
Don't miss the stories
followIndiaVision News & Information
and let's be smart!