Lokpal Bill: Rajya Sabha discussion stalled by Samajwadi Party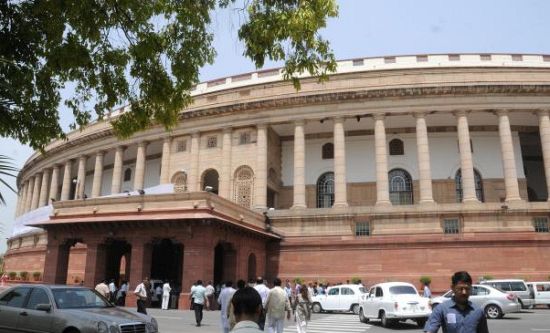 Lokpal Bill: Rajya Sabha discussion stalled by Samajwadi Party
New Delhi:  The anti-corruption Lokpal Bill, for which Anna Hazare is fasting in Maharashtra, was introduced in the Rajya Sabha but could not be discussed due to repeated disruptions by the Samajwadi Party. It will be taken up on Monday. The government says it intends to have the bill cleared as a law by Parliament before this session ends on December 20, and the main opposition BJP is on board with the plan.
Here are the latest updates on this story :
1. The Samajwadi Party, a key ally of the government, opposes the Lokpal Bill because it says the ombudsman will be endowed with super-powers. The party today threatened to support a proposed no-confidence motion on Telangana against the government in what was seen as retaliation.
2. The Lokpal is an independent national agency empowered to investigate charges of corruption against government servants.
3. Anna wants the bill to be cleared by Parliament urgently. He says he will not eat till then. He is on the fourth day of a fast.
4. A version of the bill was cleared by the Lok Sabha in December 2011, but it was stalled in the Rajya Sabha.
5. A Parliamentary committee then studied it and unanimously recommended some amendments. The BJP accused the government of ignoring some of these recommendations.
6. For example, the government says an officer being investigated must be informed that his property will be searched.  The BJP says this gives the officer time to remove incriminating evidence.
7. The government today agreed to one recommendation of the Parliamentary committee, that an officer handling an investigation cannot be transferred from the case without the Lokpal's permission.
8. This was a big sticking point for the BJP, which says that without this provision, the government can interfere with and influence an investigation
9. The government's sudden attention to the bill is under the influence of Anna and Arvind Kejriwal, whose brand-new Aam Aadmi Party made a stunning debut in the Delhi elections because it promised to check corruption.
10. Reading the mood of the public, the government, ringed in by several corruption scandals, wants to be seen as a supporter of a law that would help combat graft.
Don't miss the stories
followIndiaVision News & Information
and let's be smart!