Modi attacks Congress, Gandhis for rising prices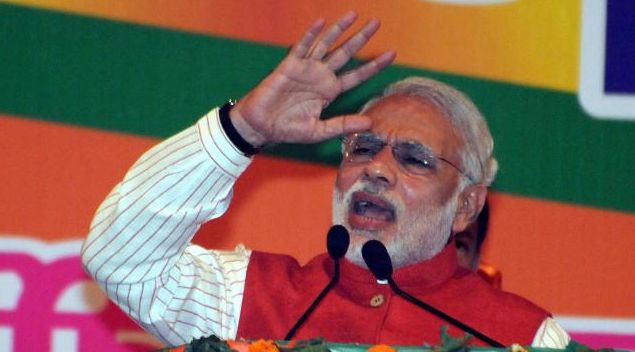 Modi attacks Congress, Gandhis for rising prices
Aj! mer – BJP's prime ministerial candidate Narendra Modi Thursday blamed the Congress for rising food prices and said the situation would have been different if it had pursued a development agenda.
Speaking three days before Rajasthan votes to elect a new 200-seat assembly, Modi targeted both Congress president Sonia Gandhi and her son and party vice president Rahul Gandhi — the latter not by name.
"You are a mother, Madam Soniaji, please say something on inflation," Modi said, addressing an election rally in Ajmer town, 150 km from Jaipur.
Modi spoke for over 30 minutes and spent much of his time criticising the Congress, Sonia Gandhi and Rahul Gandhi, addressing him derisively as "Shehzada".
Modi's rally attracted 8,000-10,000 people at the Patel Stadium in the heart of Ajmer. Most people were from rural areas.
Supporters waved BJP flags and hailed Modi whenever he made fun of the Congress — which rules Rajasthan — and t! he Gandhis.
Modi said it was necessary to recognise the true nature of the Congress party.
He said the Congress was "scared" that it could be reduced to irrelevance if people voted as one, overcoming social and religious barriers.
Modi alleged that the "Shehzada", who he said was considered the prime ministerial candidate of the Congress, didn't trust Rajasthan Chief Minister Ashok Gehlot, a veteran Congress politician.
"He came to Gopalgarh where communal violence took place and Gehlotji had no knowledge about it.
"When Rahul Gandhi doesn't trust your chief minister, how can you? The Rajasthan governor, who has been a Congress member, has also been critical of the state government," Modi said.
Gopalgarh in Bharatpur district witnessed communal riots which left 10 people dead in September 2011.
Modi said that all-round development was a must — in Rajasthan and elsewhere.
"Do you not want your life to improve? Your ch! ildren to lead better lives? Do you want Rajasthan to develop?
! "If yes, then vote the BJP to power… Wherever I go, I see a BJP wave."
Earlier, Modi told another rally at Sikar, 120 km from Jaipur, that people should not be taken in by Sonia Gandhi's concerns for the poor.
"Madam (Sonia Gandhi) asked where the opposition was during the last five years," he said, referring to her poser at a public meeting a day earlier.
"We were using a microscope to find out where the Rajasthan government was," Modi said, triggering peals of laughter.
He quickly added: "Just like the rest of the nation is trying to find out where the government in Delhi is."
Gandhi told a rally Wednesday at Sikar: "When the opposition comes seeking votes, you should ask 'Where were they during the last five years? They never tried to understand the problems faced by people'."
Modi accused the Congress of destroying the country over the past six decades. "But people will not be fooled any more."
He attacked Congress le! aders for making repeated references to funds sent from New Delhi to states for development work.
"Is it their personal wealth?" he roared. "If a hospital is built in Gujarat, is the money coming from my pocket? No! The money belongs to the people."
Modi told people not to believe what the Congress or its president says. "They are not worried about the poor. The party has a habit of breaking promises.
Rajasthan's election result will be known Dec 8 along with those of Delhi, Madhya Pradesh and Chhattisgarh.
Don't miss the stories
followIndiaVision India News & Information
and let's be smart!