'Modi wave' a media creation: Buddhadeb Bhattacharjee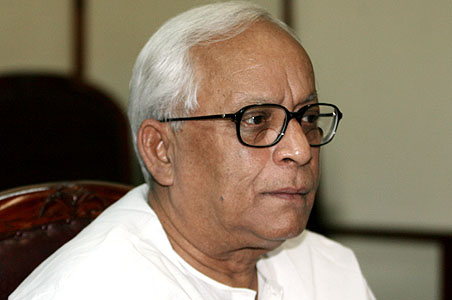 KOLKATA: Former chief minister Buddhadeb Bhattacharjee on Friday dismissed the preponderance of Narendra Modi and BJP in the pre-poll political rhetoric as a corporate media-driven "agenda" that would never find favour in "secular Bengal".
Bhattacharjee also chose to neutralize chief minister Mamata Banerjee's "friend-of-the-BJP" barb directed at the Left by asking her to apologize for her earlier association with the NDA and challenging her to clearly state that Trinamool would not be a part of any post-poll formation with BJP.
Bhattacharjee was speaking in a meet-the-press programme at the Kolkata Press Club.
With Narendra Modi and BJP grabbing more space than the traditional players in Bengal's pre-poll political rhetoric, former chief minister Buddhadeb Bhattacharjee on Friday chose to see it more as a corporate-media driven agenda which will never find favour in "secular" Bengal.
Bhattacharjee, also returned chief minister Mamata Banerjee's who-is-BJP's-best-friend barb, by egging her to apologise for her earlier association with NDA and clearly state that Trinamool Congress will not be a part of any post-poll BJP led formation at Center.
The former chief minister quipped that communists and the RSS could never be together and explained that there was no Modi wave in Bengal. "I have visited the districts and found no such wave," he said. "Only some media houses are trying to create that wave here."
He took his argument further by saying there was no Modi wave in India too. "There is no Modi wave in the country. It is totally a corporate entity-led propaganda. I am surprised that corporate entities can make and unmake things," he said. "The people of this state – and not only those from a particular community – will not accept this. I have faith in the people of this state. Danga hangama chai na," he said.
Bhattacharjee likened the possible transition from a Congress-led government at the Centre to a BJP-led one with a jump from the frying pan to the fire.
"They propagate a corporate-led development. Their only motto is to maximize profit. Consider the Manmohan Singh government's tenure. At a time when poverty levels have slipped lower, it is also a fact that around 122 corporate entities have shown earnings of Rs 5,000 crore or more. Modi also says this. We don't want this. We want inclusive growth," he said. "India still remains a country where most people still go to sleep unfed and hungry. Khali poonji diye unnayan hobe na (Only capital is not the way to achieve development)," he said.
Bhattacharjee even accused the RSS of "not respecting" the Constitution. "Some RSS leaders have already been censured by the Election Commission. Their message is clear: Hindus will dominate and the others will be destroyed. Matahye pagri, hathe talwar niye Modi aasche."
Bhattacharjee said he had seen Modi's Varanasi roadshow on Thursday. "I am really afraid at the consequences. Corporates can make or break reality. Corporates are funding four-five media houses," he said. "The attention of the EC has been drawn to the matter though the damage has already been done. I hope such a thing will never be repeated."
Denying that the "Modi factor" would polarize minority votes, Bhattacharjee said the key to faring well in the Bengal poll scenario would be to coalesce the 50% anti-BJP and anti-Congress votes. "It is not that simple. There are many cross-currents. For example, the factors of the last assembly (polls) are not there now. Many are opposing this government. Also, the rural Bengali-speaking Muslims will have different priorities then their urban counterparts. Politics is never simple maths."
Bhattacharjee, who'd often spoken of Congress as a "lesser evil", and had even hinted that, given a choice, Congress would be Left's preferred partner, chose not to tread that path. "For that to happen (Left support to Congress), they have to support out policies," he said.
On prime minister probable, he said, "Let us not discuss hypothetical questions here," he said.
Don't miss the stories
followIndiaVision India News & Information
and let's be smart!