Sanskrit, not German: Smriti Irani's Hindutva agenda hurts KV students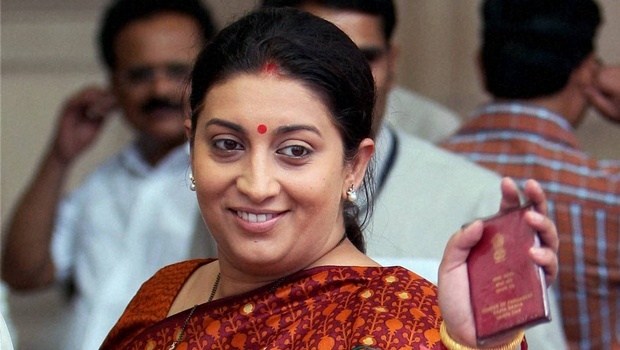 In the last six years, the number of Indian students going to Germany for higher studies has risen by 114 per cent. Germany is one of the top destinations for Indian students, particularly those studying engineering, science and technology, for affordable higher education and possible employment. Proficiency in German language is an asset that these students pursue while in school itself.
But the Human Resources Minister, Smriti Irani, wants them to learn Sanskrit. Who gave you the permission to learn German? Stop it, and learn Sanskrit at once– is her diktat.
With her decision, while chairing the 99th meeting of the Board of Governors of the Kendriya Vidyalaya Sangathan on Thursday, she has thrown a spanner in the works for thousands of school kids aspiring for a better future. From now on, no Kendriya Vidyalaya will teach German. Instead, children will have to opt for a glorious Sanskrit.The reason cited is a three language policy – Hindi, English and Sanskrit or a modern Indian language. Since the decision comes in the middle of a school year, it's a double whammy for the kids – they have to stop their favourite German and opt for Sanskrit. With other subjects already burdening them, this is an unnecessary stress that our HRD minister has imposed on them. If they still want to study German, they can do it as a hobby language.
In a globalised world of education and opportunities, this is a patently retrograde step. All over the world, kids are encouraged to learn foreign languages that will expand their future possibilities. For instance, there has been an increase of more than 26 per cent of foreigners who took the Chinese Proficiency Test, China's equivalent of TOEFL over the last few years. Thousands of students in the US and Western Europe are now learning Chinese to expand their opportunities to collaborate with and work in China, that too when it's considered to be one of the most for non-native speakers. Similarly kids in the US learn Spanish and kids in China learn Hindi.
The issue is not about which language, Chinese or German, but about the freedom to learn and explore opportunities. Learning a foreign language, besides an Indian language and English, is very common in schools across India. French has been a favourite for years and in the recent years, other languages such as German and Spanish have become standard options. Besides the school classes, hundreds of students also flock to places such as the Goethe Institute, Alliance Francaise and private tutors for their language training. Perhaps Smriti Irani hasn't visited any of these places and is not aware of the foreign language craze children have. What she should also realise is that it is not a recreational activity, but a desperate attempt to improve one's educational and professional possibilities. Indian undergraduate (nearly 50 per cent of them engineering graduates) choose Germany as their fifth favourite destination because of the opportunities.
The issue is not of German, French or Mandarin, but of avenues of higher education and better life. By nixing the German option, the minister has foreclosed the opportunities of about 70000 students in about 500 Kendriya Vidyalaya.
Now, the question of Sanskrit. What do the children gain by learning Sanskrit? Is it a medium of useful higher learning anywhere – perhaps other than some Vedic studies and astrology? The Pattali Makkal Katchi in Tamil Nadu has rightly raised the issue and it is likely to assume more political colour because "vadamozhi" (northern language) is a political imposition for the state. The three language policy is about Hindi, English and an Indian language. Why Sanskrit and why not Tamil or Telugu?
The three language policy itself is flawed. Why should children in non-Hindi states compulsorily learn Hindi? This has been a question that politicians and people in states such as Tamil Nadu have been asking. Let learning languages be voluntary.
By her decision, Smriti Irani has put the students of Kendriya Vidyalaya at a tremendous disadvantage. They have been forced to stop their favourite foreign language while children of other schools – both national and state boards – can continue to learn German, French or Spanish and explore larger possibilities of education and work later in life. Students of Kendriya Vidyalaya have to now learn Sanskrit and wonder what to do with their proficiency of the language, if at all they gain some.
Going by the suddenness and the complete lack of debate on the issue, the decision smacks of ideology. In the wake of a separate ministry for Yoga and Ayurveda, and resurgent claims of ancient Indians inventing modern science, emphasis on Sanskrit in schools in not surprising. One can only hope that the same wisdom is not extended to CBSE schools.
Perhaps people who made fun of the minister for her "Yale degree", which turned out to be a certificate for a course of a few days, are justified now. Education and learning are so central to the progress of a nation. Playing politics with it is an unpardonable mistake.
Don't miss the stories
followIndiaVision India News & Information
and let's be smart!