Square This Circle: Sheila For PM, Momentum For Kejriwal, Modi Cruising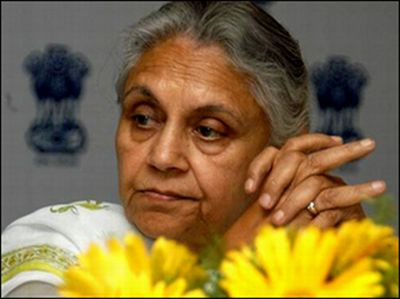 Square This Circle: Sheila For PM, Momentum For Kejriwal, Modi Cruising
By Saeed Naqvi
Supposing Delhi Chief Minister Sheila Dikshit wins a fourth term, why would she not then be the Congress party's prime ministerial candidate?
Delhi is one of the nation's most complicated states with multiple authorities always eager to take credit and pass on the blame, an alert and complaining middle class like the null point in a sea of migrants leaving the national capital region with a disconcertingly choppy, unstable demography.
If it is the national policy to allow every car manufacturer in the world to choke Delhi's traffic as well as its citizens, what can the poor chief minister do? People are so angry with the political class in general that there is a psychological need to feel good about ! something. Dikshit has provided for just that need: the Metro, newer ! buses and steadier supply of electricity and water. People talk about these improvements in their lives just as they grumble about price rise which they place in the Congress kitty, almost separating the party from Dikshit.
Winning three elections in a row are not Dixit's only qualifications. She is educated in the modern idiom. Her late husband, Vinod Dikshit, was an outstanding IAS officer. His junior colleagues still remember the warmth of their house in Lucknow. That is a vast network to be conversant with.
Uma Shankar Dikshit, her father-in-law, the last of the old guard of the Congress, greatly leaned on Sheila Dikshit's efficient management style when he was the union home minister. She became the most powerful "bahu" in the country. She was a junior minister in the prime minister's office and so on.
Is there any leader in the Congress party with this range of experience? True, she is no spring chicken but then the spring chicken the party ! is focused on is simply not growing wings.
She certainly compares favourably with the talent on show today. She is a good speaker and an excellent interviewee on TV, talents not to be sniffed at in today's public life.
That she is a Brahmin will help too; Narendra Modi does not carry that embellishment. And yet, the party's high command will not, by hint or gesture, indicate that she could be in line for the top job. Indeed, if such hints were available to the party cadres in Delhi would they not work with a greater sense of purpose? In that event Dikshit would almost certainly have carried Delhi. The BJP had got into the game late. Harsh Vardhan and Vijay Goel did not make a very pretty picture pushing laddoos into each other's mouths on the day of the compromise. And yet, there is no evidence that the Congress has any tricks in its bag except the usual "tu tu" and "mein mein" with the BJP and recently, somewhat nervously with the Aam Aadmi Party t! oo.
The momentum that Arvind Kejriwal and his team have built up! is a phenomena the country will have to reckon with. Should he cross double digits in a house of 70 in his first outing, he will send a wave of relief across the length and breadth of the country.
To the AAP will go the credit for having provided a possible escape from the rogue's gallery that the electoral arena has begun to resemble, lined as it is with posters of aspirants, one more unattractive than the other.
There are, here and there, some fairly attractive state governments but they plough a lonely furrow, unnoticed by a media which likes to play up excitements it can dwell on for long and without too much cost. Manik Sarkar in Tripura has by all accounts run an excellent administration. He has been in office longer than even Dikshit. Being CPI-M, he clearly embraces the wrong ideology, otherwise he too would have received some mention in passing when the Gujarat model is glorified morning, noon and night. There are other and some very dark h! orses who will come out from the shadows nearer the 2014 national elections.
Suspense remains on many issues, the principal among them the script Narendra Modi is expected to follow. Who has written this script? By the time elections take place in May 2014, he will have been cruising at very high altitude for a year. He was boosted sky high at the BJP conclave in Goa in June. That is when he peaked. Will he not burn himself out in the course of this marathon? Is he not already showing signs of fatigue by mixing up names, furnishing wrong historical data, fumbling for facts? Is he not declining from demagogy to provincial prattle?
Considering that Rahul Gandhi has not measured upto the competition on offer, there is probably some panic in the cloistered enclaves of the Congress high command.
Last month, some channels reported that Priyanka Gandhi Vadra has been persuaded to campaign for the 2014 elections. An agitated spokesman, Ajay Maken, did! not just deny the story. "We condemn news channels who have claimed P! riyanka Gandhi will be campaigning across the country", he thundered. Why a "condemnation" of the media when a mere denial would have been sufficient? Was the media onto some debilitating sibling rivalry in the Nehru-Gandhi household?
Ever since, that denial, Priyanka Gandhi has been visiting Rae Bareli with the young MP from Madhya Pradesh, Meenakashi Natarajan, a Rahul Gandhi discovery. The other day she even made a foray into Amethi.
Meanwhile, Maken keeps some credit because the Priyanka-Meenakshi duet has so far confined itself to the family estates, Rae Bareli and Amethi.
A pollster has just whispered in my ear that the BJP may win all four major states and that Congress will be left only with Mizoram. Should that happen, Modi will have the momentum nationally in the same proportion that the Aam Aadmi has in the state. But wait a minute: the same pollster had told me a month ago that Delhi was hurtling towards a hung assembly with Aam Aa! dmi looking comfortable in 15 seats. Believe nobody until the results are out on December 8.
Don't miss the stories
followIndiaVision India News & Information
and let's be smart!