Telangana protests in Parliament include pepper spray, flying computer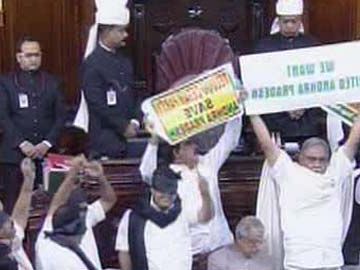 New Delhi -A parliamentarian used pepper spray, triggering a severe coughing bout and some MPs had to be treated by a doctor in unprecedented clashes in Parliament as the controversial bill to create Telangana by dividing Andhra Pradesh was introduced in the Lok Sabha today.
Congress MP L Rajgopal used pepper spray as two sets of MPs – for and against Telangana – rushed to the Well of the Lok Sabha. Mr Rajgopal was attacked by other MPs and had to be extricated by security staff. A Parliament doctor was rushed in and the vast Lok Sabha had to be aired out.
Mr Rajgopal had also smashed a glass and other protesting MPs flung a computer and pulled off a mic.  The incident spurred calls for a change in rules so MPs can be frisked before they enter the house.
"This government can't bring the bill. It's a minority bill. Its own ministers are opposing it and they are depending on the Opposition to pass it," Mr Rajgopal had told NDTV this morning.
Two groups of protesters also clashed outside Parliament and a heavy contingent of police arrived to remove them as the volatile political atmosphere spilled onto the streets.
Since morning, unprecedented security has been in place in Parliament after a suicide threat by an MP from Seemandhra, the non-Telangana region that is vehemently opposed to the new state.
Fire extinguishers and blankets have been kept ready after Congress MP Sabbam Hari allegedly threatened to set himself afire to protest against Telangana. He is one of the six MPs that the ruling party expelled for moving a no-confidence motion against the Prime Minister.
No visitors are being allowed in the Parliament House and even those entering the press galleries were put through rare checks.
Prime Minister Manmohan Singh met top ministers before Parliament began to discuss whether to bring the bill today, as the government anticipated trouble.
There have been ugly and embarrassing clashes in Parliament since last week. "My heart bleeds to see what is happening in the House. This is bad for democracy," said the Prime Minister yesterday, after two MPs nearly attacked each other before other lawmakers intervened.
Don't miss the stories
followIndiaVision India News & Information
and let's be smart!