Astronomers discover exoplanet that shouldn't be there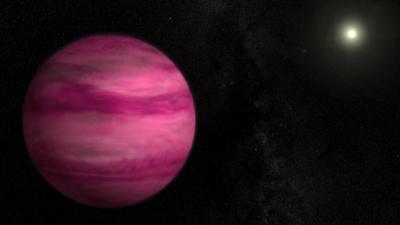 Astronomers discover exoplanet that shouldn't be there
Washington – A team of astronomers were left mystified after they discovered a giant planet orbiting its star at 650 times the average Earth-Sun distance.
The international team of astronomers, led by a University of Arizona graduate student, discovered the most distantly orbiting planet found to date around a single, sun-like star.
Planet HD 106906 b weighs 11 times Jupiter's mass and orbits its star at 650 times the average Earth-Sun distance, and is unlike anything in found our own Solar System and throws a wrench in planet formation theories.
Lead researcher Vanessa Bailey, a fifth-year graduate student in the University of Arizona's Department of Astronomy, said that this system is especially fascinating as no model of either planet or star formation fully explains what they see.
Bailey said that a binary star system can be formed when two adjacent clumps of gas collapse more or less independently to form stars, and these stars are close enough to each other to exert a mutual gravitation attraction and bind them together in an orbit.
She said that it is possible that in the case of the HD 106906 system the star and planet collapsed independently from clumps of gas, but for some reason the planet's progenitor clump was starved for material and never grew large enough to ignite and become a star.
According to Bailey, one problem with this scenario is that the mass ratio of the two stars in a binary system is typically no more than 10-to-1, asserting that in our case, the mass ratio is more than 100-to-1.
She said that this extreme mass ratio is not predicted from binary star formation theories – just like planet formation theory predicts that we cannot form planets so far from the host star.
This system is also of particular interest because researchers can still detect the remnant "debris disk" of material left over from planet and star formation.
Don't miss the stories
followIndiaVision News & Information
and let's be smart!