High-pressure table salt experiments` violate textbook rules of chemistry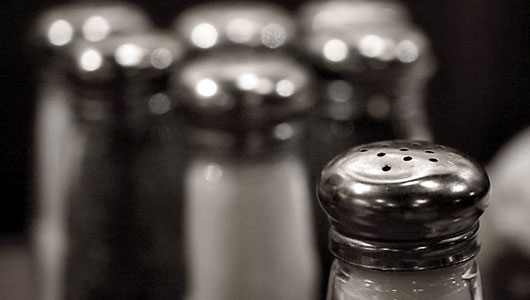 High-pressure table salt experiments` violate textbook rules of chemistry
Washington – A new study from a team of international scientists has shown that under certain high-pressure conditions, plain old salt can take on some surprising forms that violate standard chemistry predictions.
High-pressure experiments with ordinary table salt have produced new chemical compounds that should not exist according to the textbook rules of chemistry.
The study led by Prof. Artem Oganov of Stony Brook University (State University of New York) and Prof. Alexander Goncharov of Carnegie Institution at DESY's X-ray source PETRA III and at other research centres could pave the way to a more universal understanding of chemistry and to novel applications.
Table salt, also known as sodium chloride or NaCl, is one of the best-known and most studied chemical compounds. Its chemical composition is simple- one sodium atom (Na) and one chlorine atom (Cl). Or at least that's true under ambient conditions. Other compounds of the two elements are forbidden by the classical rules of chemistry.
When the scientists put table salt under high pressure of 200,000 atmospheres and more at PETRA III and added an extra dash of either sodium or chlorine, "forbidden" compounds like Na3Cl and NaCl3 turned up.
"Following the theoretical prediction, we heated the samples under pressure with lasers for a while. We found other stable compounds of Na and Cl which came as a surprise," co-author Dr. Zuzana Konopkova of DESY said.
This is not supposed to happen, as these compounds require a completely different form of chemical bonding with higher energy, and nature always favour the lowest state of energy.
But Oganov's team had calculated before that exotic compounds might form under extreme conditions and remain stable under these conditions.
Lead author Dr. Weiwei Zhang said they have predicted and made crazy compounds that violate textbook rules: NaCl3, NaCl7, Na3Cl2, Na2Cl, and Na3Cl.
The scientists tested the predictions in what they call "cook and look" experiments, targeting Na3Cl and NaCl3, the two compounds that were predicted to be more easily made than others, and indeed found them.
Zhang said these compounds are thermodynamically stable and once made, remain so indefinitely. Classical chemistry forbids their very existence.
Classical chemistry also says atoms try to fulfil the octet rule- elements gain or lose electrons to attain an electron configuration of the nearest noble gas, with complete outer electron shells that make them very stable. Well, here that rule is not satisfied.
The study is published in the scientific journal Science.
Don't miss the stories
followIndiaVision News & Information
and let's be smart!