Hubble traces subtle signals of water on distant hazy planets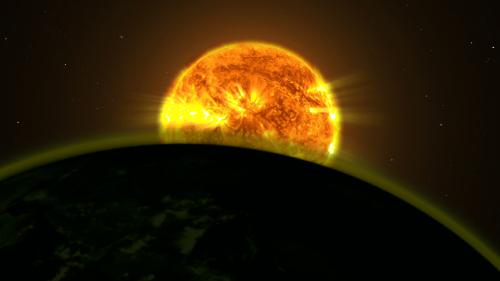 Hubble traces subtle signals of water on distant hazy planets
Washington – Researchers using NASA's Hubble Space Telescope have found faint signatures of water in the atmospheres of five distant planets.
The five planets — WASP-17b, HD209458b, WASP-12b, WASP-19b and XO-1b — orbit nearby stars.
The strengths of their water signatures varied. WASP-17b, a planet with an especially puffed-up atmosphere, and HD209458b had the strongest signals.
The signatures for the other three planets, WASP-12b, WASP-19b and XO-1b, also are consistent with water.
The studies were part of a census of exoplanet atmospheres led by L. Drake Deming of the University of Maryland in College Park. Both teams used Hubble's Wide Field Camera 3 to explore the details of absorption of light through the planets' atmospheres.
The observations were made in a range of infrared wavelengths where the water signature, if present, would appear. The teams compared the shapes and intensities of the absorption profiles, and the consistency of the signatures gave them confidence they saw water.
The observations demonstrate Hubble's continuing exemplary performance in exoplanet research.
The water signals were all less pronounced than expected, and the scientists suspect this is because a layer of haze or dust blankets each of the five planets.
This haze can reduce the intensity of all signals from the atmosphere in the same way fog can make colors in a photograph appear muted. At the same time, haze alters the profiles of water signals and other important molecules in a distinctive way.
The study has been published in Astrophysical Journal.
Don't miss the stories
followIndiaVision India News & Information
and let's be smart!