Hundred thousand new cosmic x-ray sources identifie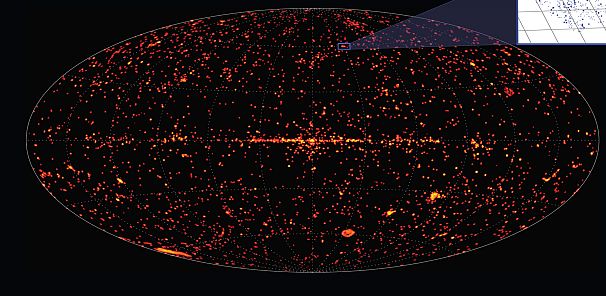 Hundred thousand new cosmic x-ray sources identifie
Washington – A team of researchers has published a major list of celestial X-ray sources, which features over 150,000 high-energy stars and galaxies.
Using the X-ray telescope on board the US/UK/Italian Swift satellite, the team analyzed eight years' worth of data to make the first Swift X-ray Point Source catalogue.
In addition to providing the positions of almost a hundred thousand previously unknown X-ray sources, the team have also analyzed the X-ray variability and X-ray colors of the sources in order to help to understand the origin of their emission, and to help in the classification of rare and exotic objects.
The X-ray telescope on Swift has played a key role in these discoveries, but as well as finding the afterglows of Gamma-ray burst (GRB) it also sees many other unrelated X-ray sources that are serendipitously in the telescope's field of view. In order to be able to respond quickly to the rapidly fading GRBs, Swift is uniquely agile and autonomous, able to point within a minute or so at a new target.
Stars and galaxies emit X-rays because the electrons in them move at extremely high speeds, either because they are very hot (over a million degrees) or because extreme magnetic fields accelerate them.
The underlying cause is usually gravity; gas can be compressed and heated as it falls on to black holes, neutron stars and white dwarfs or when trapped in the turbulent magnetic fields of stars like our Sun.
Most of the newly discovered X-ray sources are expected to signal the presence of supermassive black holes in the centers of large galaxies many millions of light-years from Earth, but the catalogue also contains transient objects (short-lived bursts of X-ray emission) which may come from stellar flares or supernovae.
The study has been published in the Astrophysical Journal.
Don't miss the stories
followIndiaVision India News & Information
and let's be smart!