How iPad got its iconic design revealed!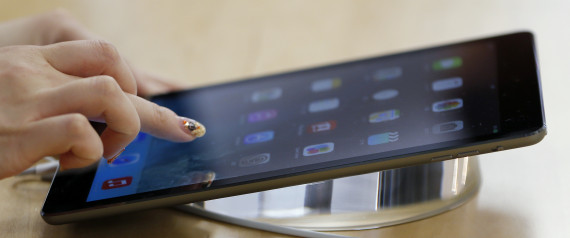 How iPad got its iconic design revealed!
New York – The modern day iPad reportedly went through a lot of designing, redesigning and experimentation before becoming what iconic design it has today.
The tablet's design history has been detailed in Jony Ive: The Genius Behind Apple's Greatest Products, by Leander Kahney.
According to Gizmodo, John Ive was secretly working on the iPad while boss Steve Jobs was publicly rejecting claims of an early tablet release.
While working on the iPhone design, Ive's team was also working on the tablets, starting with the exact size of the future-gadget.
Moving on from laptops and netbooks, Ive proposed at an executive meeting in 2008, that tablets in his lab could be Apple's answer to netbook, suggesting that it was basicall an inexpensive laptop without a keyboard, an idea that appealed to Jobs and he give a go-ahead to Ive to work on the prototypes and make a real product.
Ive started by ordering twenty models made in varying sizes and screen-aspect ratios and finally decided on the future iPad's screen to be the size of paper, thought as the right size and targeted at education and schools and e-reading.
Next came the touch factor which was based on the iPod touch feature, making the iPad to be a scaled up touch-screen iPod.
The report said that Ive's ultimate goal was to make a device that needed no explanation and was fully intuitive, one that was breathtakingly simple, beautiful and needed no explanation.
His team then explored two different design directions for the iPad, directly akin to the twin design directions they pursued with the iPhone, by initially building a case resembling the extruded aluminum iPod mini, inclusive of plastic caps for the Wi-Fi and cell phone radios.
The team also experimented with adding a kickstand to prop the tablet up, but dropped the idea for the debut product and used it for the later version iPad 2.
Ive's team then focused on reducing the need of having too many buttons on the gadget that distract from the display, as Ive wanted the infinity-pool illusion and the design progressed with thinner models and sharper edges.
The product then got a new aluminum back which wasn't as tapered as Ive had decided earlier but gave the device an easier handling, giving it a thin sidewall that gave it strength but made it thicker and bulkier than the earlier planned plastic version.
The first iPad from the tech giant was released on April 3, 2010, priced from 400 dollars for 16GB unit.
Don't miss the stories
followIndiaVision India News & Information
and let's be smart!