ISRO to decide Dec 27 on GSAT-14 launch date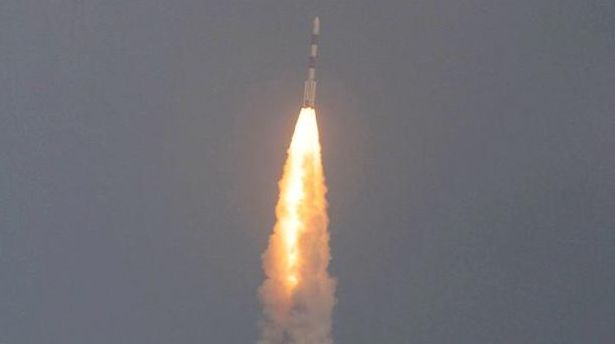 Successful Mars mission helps ISRO end year on high note
Chennai – The Indian space agency Dec 27 would decide the date for the launch of communication satellite GSAT-14 using its heavier rocket geosynchronous satellite launch vehicle (GSLV), said a senior official.
"The GSLV launch will be in January. The exact date will be decided Dec 27 at a meeting," M.Y.S.Prasad, director, Satish Dhawan Space Centre (SDSC), told IANS over phone from Sriharikota in Andhra Pradesh.
A couple of hours bef! ore the rocket was all set for launch Aug 19, to put into orbit GSAT-14, the mission was aborted after the liquid fuel started leaking from its second stage/engine.
The mission's important aspect is that the rocket's cryogenic third stage/engine is designed and built by ISRO.
A cryogenic engine is more efficient as it provides more thrust for every kilogram of the propellant burnt.
The successful flight of this rocket is crucial for India as it will be the first step towards building rockets that could carry heavier payloads, up to four tonnes.
For ISRO, perfecting the cryogenic engine technology is crucial as it can save precious foreign exchange by launching communication satellites by itself.
The 49.13 metres tall GSLV, weighing around 414 tonnes, is a three-stage/engine with four strap-on motors hugging the first stage.
The first stage is powered by solid fuel, while the four strap-on motors and the second stage are powered by ! liquid fuel. The third is the cryogenic engine powered by liquid hydrog! en and liquid oxygen.
According to Prasad, currently tests are being conducted on the rocket systems.
Earlier, the re-launch was expected to happen in December but the Indian space agency decided to carry out full fledged tests on all systems which consumed time.
ISRO officials told IANS that the rocket would be moved to the launch pad Dec 28 or 29 and after that around 10 days would be needed to ready the rocket for its flight.
The cuboid shaped GSAT-14 is India's 23rd geostationary satellite built by ISRO. It has a life span of 12 years.
The 1,982-kg satellite carries six extended C-band and Ku-band transponders (receivers and transmitters of signals) and two Ka-band becons. The satellite will be used for tele-medicine and tele-education services.
Don't miss the stories
followIndiaVision News & Information
and let's be smart!