New intravaginal ring offers long-term HIV and pregnancy prevention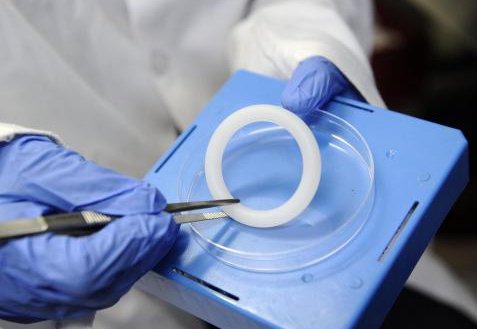 New intravaginal ring offers long-term HIV and pregnancy prevention
Washington – Researchers have developed a new intravaginal ring (IVR) developed for the sustained 90-day co-delivery of tenofovir and levonorgestrel, an anti-human immunodeficiency virus (HIV) drug and a contraceptive.
Tenofovir is the only topical prophylactic shown to be effective at reducing the sexual transmission of HIV when formulated in a gel. T
Meredith Clark, Ph.D., and David Friend, Ph.D., from CONRAD, a reproductive health research organization, in collaboration with the University of Utah, created this IVR using a dual-protection or multipurpose prevention technology (MPT) to concurrently protect women from the sexual transmission of HIV and unintended pregnancy.
They designed the ring using reservoir-type polyurethane segments that were individually optimized to deliver each drug at the desired dosage—a high flux of tenofovir and low flux of levonorgestrel.
The researchers performed in-vitro release testing, and 3-month pharmacokinetic (PK) studies in rabbits and sheep were done in comparison against the tenofovir gel.
The PK studies found that local levels of tenofovir in the target tissue delivered from the IVR are similar or higher than the levels following gel application. In addition, release of the contraceptive agent was consistent with previous levels tested to be efficacious in women.
CONRAD's Product Development group and collaborators are continuing stability studies now and anticipate beginning with phase 1 clinical trials in women in early 2014, testing the combination anti-HIV/contraceptive IVR versus the anti-HIV-only IVR.
Don't miss the stories
followIndiaVision India News & Information
and let's be smart!