Rare magnetar found near supernova remnant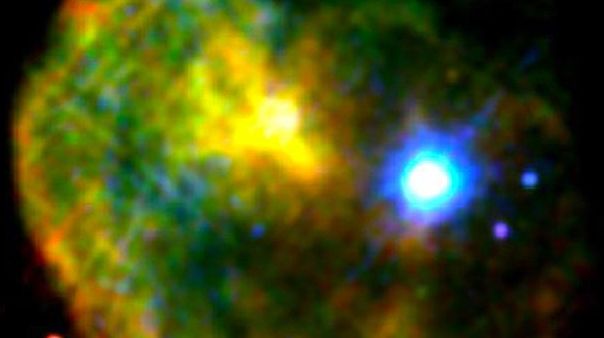 Rare magnetar found near supernova remnant
Washington – Astronomers have discovered a new transient magnetar near supernova remnant SNR Kesteven 79.
It is likely that the magnetar, an ultra-magnetic neutron star, was part of a binary star system together with an anti-magnetar.
During a COSPAR training workshop, PhD student Ms. Ping Zhou from the University of Nanjing in China used X-ray images from ESA's X-ray telescope XMM-Newton from 2008 and 2009 to discover a bright source south of the supernova remnant that was not visible in previous observations made from 2001 to 2007.
The newly discovered magnetar 3XMM J186536.6+003317 pulses with X-rays every 11.56 seconds and, therefore, has the longest rotation period among all known transient magnetars.
The distance to the magnetar indicates that there is a likely connection between this object, the supernova remnant and the anti-magnetar that is located at the center of supernova remnant.
It is possible that both stars were members of a binary system that was disrupted during the supernova explosion.
The results of the research has been published in the Astrophysical Journal Letters.
Don't miss the stories
followIndiaVision News & Information
and let's be smart!