Staphylococcus bacteria may be culprit behind eczema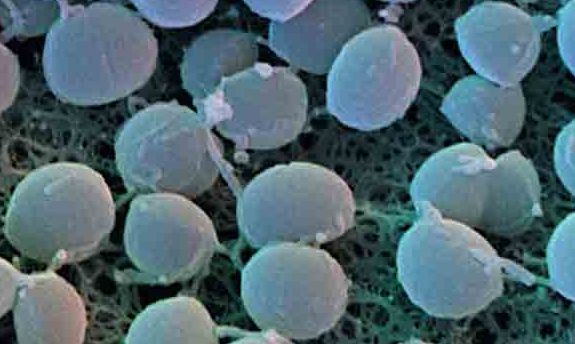 Staphylococcus bacteria
Washington – Researchers have claimed that a toxin produced by the common bacteria Staphylococcus aureus –known as "staph" – causes immune-system cells in the skin to react in a way that produces eczema-like rashes.
The release of the molecule, called delta toxin, by staph bacteria caused immune-related mast cells in the skin to release tiny granules that cause inflammation. But this didn't occur when skin was exposed to staph strains that lacked the gene for delta toxin.
Senior author and University of Michigan professor Gabriel Nunez, M.D, said that this link between a specific S. aureus toxin and mast cell degranulation suggests a very specific mechanism, though it's not enough to suggest delta toxin from staph bacteria by itself causes eczema.
He said that genetic vulnerability likely also plays a role.
The finding was made in mice, so it's too soon to say that the same effect occurs in humans who suffer from eczema, also called atopic dermatitis.
But the researchers did find significant levels of staph delta toxin in skin samples taken from patients with eczema.
Part of the exciting challenge presented by this new discovery, Nunez says, is simply learning more about what delta toxin does and why the bacteria produce it.
Nunez asserted that the bacteria do not likely produce it to cause disease, but produce it in response to an increase in neighboring bacteria – something called quorum sensing.
The gene for the toxin is regulated through a cellular pathway that's responsible for S. aureus's virulence, or ability to cause disease. The staph bacteria may produce delta toxin to kill other competing bacteria that reside on the skin – including benign and beneficial ones.
The study has been published in journal Nature.
Don't miss the stories
followIndiaVision News & Information
and let's be smart!