Captain's knock: Kohli shows maturity in Sri Lanka Test series win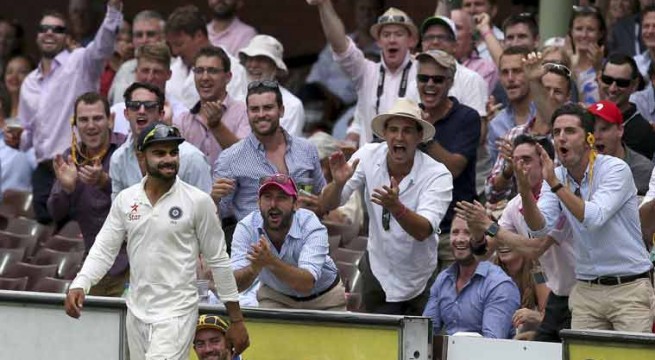 India, pleased as they must be at the series win, should still feel a bit disappointed that the scoreline is 2-1 and not 3-0 in their favour. India lost the first Test after having dominated the match for the most part, but a stunning batting collapse saw them lose from a position of strength.
When Virat Kohli looks back at the series, which he has won in his first stint as captain of the side, he should not paper over the weaknesses that are too glaring to be ignored.
But before one gets into these shortcomings, Kohli needs to be complimented for showing a more restrained and mature side while marshalling resources on the field, though he needs to keep the temper of his players in check. Kohli's march for the series win was helped by some very energetic and lively pace bowling by Ishant Sharma and Umesh Yadav.
The Indian pace attack has in the past been very tardy and shown poor fitness levels that has affected their performance. Ishant has a history of breakdowns and it augurs well for India that he has worked hard on himself in the break he got. As a result, he appeared the strike bowler India always believed he is. His partner, Yadav, is a powerful man and bowls at a pace which can rattle the best of batsmen. He too has been dogged by fitness issues which has hampered his progress as a bowler, though in this series he has maintained a lively pace and bowled with good rhythm.
Similarly, Ashwin is developing into a very wily, crafty spinner and used the favourable conditions in Lanka to almost near perfection.
If India needs to worry, it is in their very inconsistent batting. True, injuries to Murali Vijay and Shikhar Dhawan did disturb their balance, but it was obvious to most that this team lacks players who can build and sustain an innings.
I don't think the loud, aggressive talk of the team director has been of any help. Also, the treatment given to Chetashwar Pujara, be it in his being pitted against Rohit Sharma and calling him too laborious in comparison to Rohit's aggressive batting, was, to put it simply, unfair.
There is no doubt in anyone's mind that Rohit is a special talent, but so is Pujara and in Test match conditions may be a far better asset. Worse, the team management, who had before the first Test discovered in Rohit a future number 3, straightaway went into defensive mode and sent him at number 5, after he failed at that position. In protecting Rohit, they did not bother about what psychological effect it would have on Ajinkya Rahane, who was shifted to number 3.
India, given its raw bench strength, may require both Pujara and Rohit to be in the team in the future. And if for the sake of team balance, both can't be played, there are better ways to handle the dilemma than make Pujara appear the inferior of the two.
As it is, India owes this series win to Pujara's classic unbeaten century in the first innings under the most demanding of conditions. Without his outstanding exhibition of skill, temperament and technique in carrying his bat through in the first innings, India could well have been struggling in the Test.
We in India are always susceptible to hyperboles and celebrate much in excess of what a victory deserves and are very harsh in criticism at a loss.
This is just a first step for Kohli and his men in a climb which could be strewn with more hurdles and better teams could come along to bring them back to reality. Even here, when India appeared heading for an easy win, a late order revival led by the redoubtable Anglo Mathews had India searching for answers. That is why there is a need to realize that this win against a very weak, raw and vulnerable Sri Lankan team should not make India complacent and smug.
Tougher battles loom ahead, the first of which is a series against South Africa beginning next month. India, though, would be relieved that it is being played in home conditions.
Don't miss the stories
followIndiaVision India News & Information
and let's be smart!