I compete with myself: Viswanathan Anand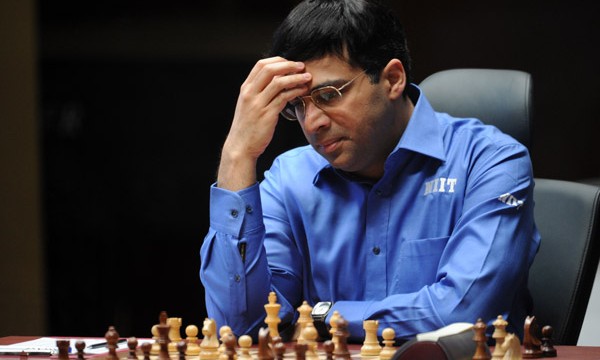 Viswanathan Anand gets `quick chance` to fight back from losing world crown
After some great results in 2014, five-time World champion Viswanathan Anand is approaching the forthcoming World Chess Championship 2014 in Sochi (Russia) with quiet confidence and a positive frame of mind. After losing the title to Magnus Carlsen of Norway last year in Chennai, Anand played powerfully at the Candidates tournament this year in March to brush past seven other contenders, including Levon Aronian, Vladimir Kramnik and Veselin Topalov. He remained unbeaten and earned the right to be the challenger to Carlsen.
In the Category 21 Bilbao Masters, Anand once again exhibited tremendous form to win with a round to spare. The Indian, gunning for his sixth title, shares his thoughts on the forthcoming clash. Excerpts from an interview:
Are you happy with Sochi as the venue?
Sochi is a great venue. Aruna (Anand's wife) was very impressed when she inspected it a few months back. They have held the F1 and hosted the Winter Olympics. So I think it will be excellent. Russian chess audiences are always very appreciative and the warm weather there should be good.
What's your approach towards this Match?
I am happy with my chess performance this year. Actually in 2013, I had some good results but those were marred by a few bad losses. In 2014, I was more consistent in Khanty Mansiysk and Bilbao and played the chess I enjoy playing. So I would say I'm approaching Sochi with positive feelings.
Six WCC matches since 2007. Isn't that a whole lot?
Really six in seven years! I didn't realise it. Like I said, I compete with myself. There are times when you think you have had enough and after a few moments you realise you want more! Chess for me is something that I am fascinated with. I still realize that there are so many openings to learn from, to explore much more, new variations to uncover. Still, when I start work on chess, I feel like a six-year-old with a chessboard, waiting at the Tal club to play Blitz.
How do you rate Magnus as an opponent now?
He has achieved a lot and is tenacious in his play. He will definitely come to Sochi motivated.
Your thoughts on permanent second Peter Nielsen joining the Carlsen camp?
Peter is a very nice person. I was quite touched that he sent me a picture of their baby from the hospital, almost the same way I sent Akhil's photo.
Any changes in Team Anand?
That will have to wait till the press conference. OK, I would like to admit that there have been changes on all fronts.
What about the psychological undercurrents in the Match?
Every match has its undercurrents. I don't really believe in mind games or micro analysing media interviews or who said what. If it is relevant to chess, my team lets me know. Otherwise I do not read or follow chess news.
How are your personal equations with opponents?
It depends. Kramnik and I are very good friends. In fact he even helped me in 2010. I would count Boris Gelfand as my close friend in chess.
How do you relax while preparing for such a huge battle?
Well it has been fun to have some time and be with my son Akhil. For him, you are just his playmate. At home, I am asked to stay away at meal times as I am the biggest distraction. It is so wonderful that a child's love and laughter is so selfless. Funnily, now my No. 1 songs are 5 Little Ducks and Mr Sun Sun…
PLAYER BIOS
V Anand, India, age 44, Elo 2792 (his best in 30 months), World No. 6; 5-time world champ; world champ in KO, tournament and Matchplay formats
Magnus Carlsen, Norway, age 23, Elo 2863, World No. 1, reigning world Champion in Matchplay, rapid and blitz; GM at 13, broke Kasparov's Elo peak of 2851
MATCH FACTS
12-game match with tiebreak provision
Time Control: Three and a half hours per player with slabs and increments
Games start at 5.30pm IST
Match Dates: Nov 8, 9, 11, 12, 14, 15, 17, 18, 20, 21, 23, 25.
Rest Days: Nov 10, 13, 16, 19, 22, 24.
Tiebreaks (if reqd): Nov 27.
Prize Distribution: Nov 28
Venue: Olympic media centre, Sochi, Russia
First player to attain 6.5 points will become world champion. (one point for a win, half a point for a draw)
HEAD TO HEAD
6-6 in classical chess. But since becoming world No. 1 in 2010, it's 6-1 in Carlsen's favour
Age factor
Winning rematches are always a tricky proposition, but Carlsen has age on his side. Here's a list of the age of the champions in successful rematches
1985 | Kasparov (22) bt Karpov (34) 1969 | Spassky (32) bt Petrosian (40) 1961 | Botvinnik (50) bt Tal (25) 1961 1954 | Symslov (33) bt Botvinnik (43) 1934 | Alekhine (45) bt Euwe (36), 1937
YEARS AT THE TOP
FIRST AND LAST FINALS OF THE ALL-TIME GREATS
Lasker: 1894-1921 (27 yrs) Anand: 1995-2014 (19) Kasparov: 1984-2000 (16) Karpov: 1975-1990 (15) Botvinnik: 1951-63 (13) Alekhine: 1927-37 (10) Steinitz: 1886-1896 (10) Kramnik:2000-2008 (8)
Don't miss the stories
followIndiaVision News & Information
and let's be smart!