Geoff Lawson: The 10 players to watch in cricket's World Cup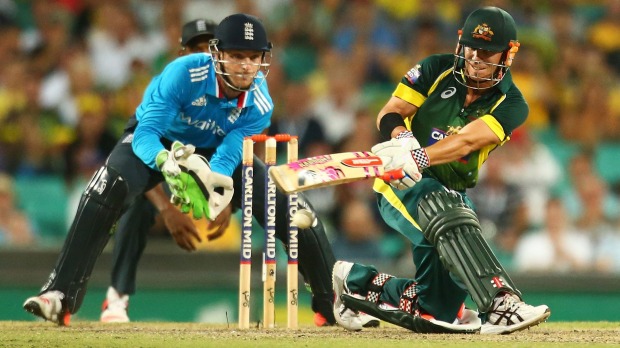 This 11th edition of the world Cup could be the most open since India surprised all in 1983. The home teams will appreciate being at home, knowing the pitches and having the best of the crowd's support. Australia have begun the Tri-Series with an impressive victory against England. The new ball bowling was powerful (even without Mitchell Johnson and Josh Hazlewood ) and the fielding sharp. It could be the Aussies' time again, under one or another captain. Lets hope they haven't peaked early.
There will be a number of players who rise to the task during this championship. Here are 10 to watch:
Mitchell Starc (Australia)
There may have been some criticism of his Test bowling way back in Brisbane but his one-day stuff has been consistently threatening. In a tournament where new ball breakthroughs will be worth their weight in gold Mitch can deliver both the swinging yorker and the leather sniffing bouncer. He then backs up the new-ball stuff with some old ball reverse swinging unplayables in the closing overs — as he did on Friday night against England. He will be the "go to" man when his captain (whoever hat might be) needs a wicket.
David Warner (Australia)
Just as Starc could be the bowling game breaker David Warner can light up any attack with shots all around the wicket and get Australia away to some dominant starts. Strangely his ODI record has been suffering in contrast with a Test deluge, but the signs are there that he is prepared to occupy the crease and score a little more orthodoxly, but still quickly. On his home wickets he will benefit from pace in the pitch. Expect some teams to open the bowling with spin to blunt his timing and power.
Moeen Ali (England)
Moeen has the distinction of being a top order bat who will probably bowl the full quota of 10 overs of his off spin and sliders, especially if James Treadwell's name isn't on the team sheet. He has been able to score consistently against the new ball and is not afraid to loft the ball in the early power-play overs. He plays spin well and can reverse sweep and keep the slower bowlers off their length. Teams that have done their homework may test him out with the short ball. His challenge will be to adapt to the bouncier Australian pitches although England have pool games split between Australia and New Zealand.
A.B. de Villiers (South Africa)
South Africa's fortunes may well rest on their skipper's miraculous batting and acrobatic wicketkeeping. De Villiers can score off any type of bowling on any surface in any match situation. A game is never lost when AB is at the crease. With young star Quentin de Kock out of the tournament with an injury the captain takes the gloves full-time and this gives some flexibility down the order if the Proteas need extra bowling specialists now that Jacques Kallis is wearing lime green instead of a darker hue. In a World Cup with so many all-rounders the South African captain is the ultimate practitioner. I wouldn't rule him out of bowling a couple of overs in an emergency.
Brendon McCullum (New Zealand)
he Black Caps are sporting one of their best seam bowling attacks in memory but the key to their march into a final will probably lie with captain McCullum. His stellar Test form of 2014 has carried over to his ODI touch in 2015. No attack has been able to curb his ferocious striking. Given the freedom to roam the infield rather than keeping wickets, thanks to Luke Ronchi's national switch Brendon's appetite for big scores has multiplied. New Zealand have all their matches through to the semi-finals on home soil and it would not surprise to see their captain lead them to the playoffs.
Shahid Afridi (Pakistan)
The evergreen Shahid Boom Boom Bai just keeps on going. I won't quote his age because I found four different references to his birthdate. But age is no limit to the penetration of his bowling or the power of his hitting. Under Misbah Ul-Haq's leadership, Afridi has abandoned his own captaincy agenda and his concentration on purely playing continues to be valuable for the Pakistan team. He can pick up wickets with his sliders, leg breaks and wrong 'uns in the middle, milking overs that can turn a game and strike bowlers rather than steady ones will win games in 50 over cricket. Expect him to have a big cup, it should be his last … or not.
Kumar Sangakkara (Sri Lanka)
Kumar is another of the veterans who rise to the pressure and challenges of the world stage. Like his outstanding teammate Mahela Jayawardene, he understands how to win games from seemingly impossible situations and being the keeper gives him the opportunities to read and influence the game when in the field. He has an insatiable thirst for making runs and winning games. The importance of getting the innings away to a bright start is in his hands and rarely fails. He has the track record that suggests he can make runs away from the batting paradises of the subcontinent. If he has a good World Cup then so too will his team.
Chris Gayle (West Indies)
It goes without saying that Gayle is the most lubricated wheel in the Windies line-up. If he turns, the machine goes forward. The selection turmoil in West Indies cricket simply means that Gayle's success with the bat has risen from extremely important to imperative. He has been in smashing T20 form recently and if he can carry significant amounts into ODIs then the Windies will have totals to defend. They will need every run they can get. Of all the teams that rely on one player this is the team and Gayle is the man. Even if the Windies don't make the semi-finals it will be worth the entertainment value just to watch Gayle in action.
Ravindra Jadeja (India)
Jadeja missed the Test series through injury and was sorely missed for his left-arm slow bowling. His ability to score quickly adds to an Indian team that looks full of runs. He is the genuine spinning all-rounder that India need to complement Ravi Ashwin's tweakers . He will add zip in the field and he can bowl in either power play. Ravidindra was one of the missing sparks that India needed against Australia in the Test series. He can produce a spectacular piece of fielding that produces a breakthrough from nothing. Thought to be on the outer with M.S. Dhoni he may have a point to prove as India set about defending their title on foreign fields.
Javed Ahmadi (Afghanistan )
Javed is coming off some recent heavy run scoring against Scotland in their ODI series in Dubai. I first saw him in the Under 19 World Cup in 2011 where he outscored all the main batsmen from the full member nations. Unlike some subcontinental batsmen who learn their trade on slow, low pitches he played the fast, short ball with ease. He hits the ball very hard and is not intimidated by the reputations of well known bowlers. He likes the challenge of taking on the big boys. Afghanistan are not to be taken lightly and if they are to spring a surprise or two then Javed will likely be scoring many runs.
Don't miss the stories
followIndiaVision India News & Information
and let's be smart!