Google doodle on Russian anti-gay law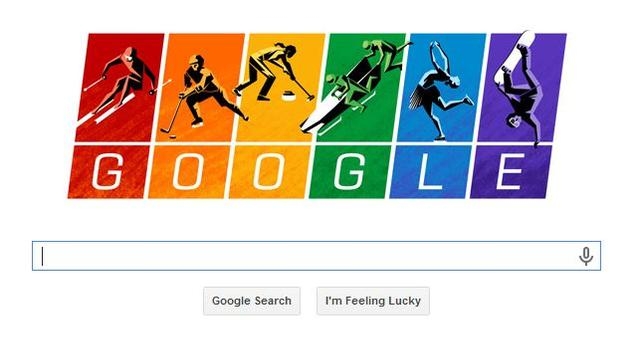 With the Winter Games underway in Sochi, Google Inc. quietly but vibrantly added its voice on Thursday to the chorus of U.S. companies speaking out against Russia's law restricting gay-rights activities by updating its iconic search page logo to depict illustrations of athletes skiing, sledding, curling and skating against a rainbow-coloured backdrop.
The company declined to comment on the new Google Doodle that appeared on its home pages worldwide, saying it wanted the illustration to speak for itself. But the logo clearly was meant as a show of support for gay rights and a rebuke of the law that bans pro-gay "propaganda" that could be accessible to minors- below the updated logo appears a two-sentence section of the Olympic charter that reads, in part, "The practice of sport is a human right. Every individual must have the possibility of practicing sport, without discrimination of any kind."
"Google has made a clear and unequivocal statement that Russia's anti-LGBT discrimination is indefensible," said Human Rights Campaign President Chad Griffin, whose Washington-based group has been lobbying American corporations, especially those sponsoring the Games in Sochi, to condemn the law signed by Russian President Vladimir Putin in July. "Now it's time for each and every remaining Olympic sponsor to follow their lead. The clock is ticking, and the world is watching."
Although Google is not an Olympics sponsor, its action came a day after three sponsors of the U.S. Olympic Committee AT&T, DeVry University and yogurt maker Chobani issued statements explicitly speaking out against the Russian law.
Google typically updates its themed daily Doodles at midnight Eastern time, but the Olympics-gay pride version made its debut in the late afternoon. While Google is not as popular in Russia as it is in the U.S., the timing meant it would be seen in Russia on Friday, when the Games' opening ceremonies will be held. The local time in Sochi is 12 hours ahead of California, where Google is headquartered.
Google and its founders have been outspoken supporters of gay rights since 2008, when the company got involved in the campaign to defeat a gay marriage ban on the California ballot. In 2012 it launched a global workplace safety campaign, called "Legalise Love," that it described as a call to decriminalize homosexuality and eliminate homophobia around the world. The company also recognizes gay pride season each year by customizing search boxes to turn rainbow-coloured when terms like "gay" and "gay pride" are entered.
Don't miss the stories
followIndiaVision India News & Information
and let's be smart!