Mary Kom: Sarita Devi has all my support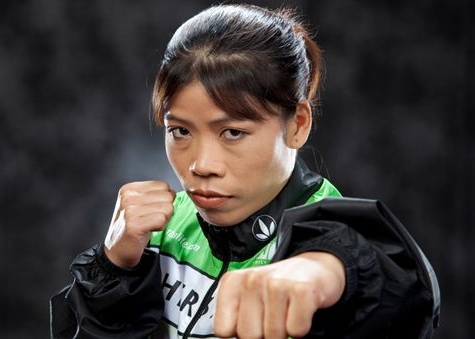 It was a day of tears in the boxing arena at the Asian Games in Incheon, South Korea. Some happy, some sad. While the indomitable Mary Kom added yet another gold in her glittering career, compatriot Sarita Devi refused to accept her bronze after losing a controversial fight. Kom wiped her tears, draped herself in the Indian flag, and was crowned the Asian Games champion in 51kg Women's Boxing accompanied by wild cheering. A few minutes later, Sarita stepped on to the podium sobbing for the 61kg Women's Boxing ceremony. She refused to wear her bronze medal, then put it around the neck of the silver medalist Jina Park of South Korea in an unprecedented gesture. Sarita had lost to Park in the semifinals on Tuesday in a decision widely condemned as unfair and biased towards the host country. "It's been 24 hours and not one Indian official has come here to even ask me if I am ok," Sarita said. "Do they care? I also gave birth to a baby and went into training immediately after and won a silver at the Commonwealth Games (this year). I hope my decision sets an example. Now I just want to go home and spend time with my baby." After the medal ceremony, Kom posed with her gold inside the arena with local Indians as hundreds of flashes went off. Barely 20 metres away, Sarita continued to cry, holding her husband's hands. The contrast is made even more poignant by the fact that Kom and Sarita began their boxing careers together in 1999, under the same coach at the Sports Authority of India's training centre in Imphal, Manipur, and lived together as hostel-mates. For Kom, though, it has come full circle. She started her boxing career inspired by a gold at the Asian Games — in 1998, when she saw Dingko Singh, another boxer from Manipur, win it. Now the 31-year-old Kom has everything: Five World Championship titles, an Olympic bronze, an Asian Games gold and bronze (which she won in 2010), and multiple Asian Championship titles. She spoke to Mint soon after the medal ceremony. Edited excerpts: An Asian Games gold — you have been waiting for this a long time. Yes, it was very important for me to win this. Last time when I won the bronze (at the 2010 Asian Games) I was unhappy. Ever since Dingko Singh's gold I have dreamt of this. I was very confident going into my fights. In the final, even after I lost the first round, I knew exactly what I had to do.
I had figured her out (her opponent, Kazakhstan's Zhaina Shekerbekova), and I changed my strategy. I knew where to find my openings when she attacked, and that's what I did. I waited for her, I blocked her, and used those openings. It does not matter to me if a movie is made on me. If I don't win in the ring, nothing else matters, nobody will remember me. You had said before the 2012 Olympics that you might retire that year, does this gold mean you will continue fighting? The Rio (2016 Olympics) gold is mine. At least that's what I like to think. I am ageing, staying fit is much more challenging now. When I was getting ready for Beijing (2012 Olympics) I thought that I was getting too slow, and that I might not be able to continue as strongly as before. But winning a medal at the Olympics gave me more courage.
I trained harder. Even when I won the bronze at the Olympics I knew I could have done much better. After that, the idea was always to get to the 2016 Olympics, and all my plans is geared towards that. The Rio gold is mine. I feel like I can keep doing it for some more time. You had a third baby last year. How difficult was it to get back in the ring after that? I had put on a lot of weight after the birth and losing that weight was biggest challenge. I had to get back into very hard training after months of inactivity. My husband took care of everything when I went back into training. But Prince (her third baby) is a good boy. Unlike my twins, who always wanted me around, this one lets me train and cries a lot less. Third time lucky I think! How do you feel about the way Sarita lost? She has refused to accept her medal. She is very brave and she has all my support. I don't know if she has put her career at risk, but it is a very courageous decision to return the medal.
I know she will keep competing, she is a fighter, she will fight through this, and she will win a medal at the World Championship right here in Korea (in November). Obviously, there is no doubt that Park won (the semifinal against Sarita) because she is Korean. Sarita dominated the fight. These things happen, they happen all the time in boxing, but it is usually about 1-2 points. But this was open cheating, this should not happen. It is good how her husband her supported her through this. My husband is also like that, he is my support system in everything I do. What's next for you? The World Championships? Yes. There is very little time. I won't have any time to celebrate, historic medal or not. I will just go home for a little bit, rest a little, and then go back to training at the national camp.
Don't miss the stories
followIndiaVision India News & Information
and let's be smart!