Novak Djokovic gracious after Australian Open exit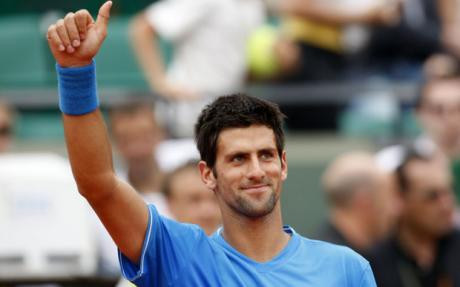 After midnight, after four hours of extraordinary effort, after losing something precious and probably irreplaceable, Novak Djokovic had a quick shower and gave a lesson in humility.
"This is sport," Djokovic said after losing his Australian Open quarter-final to Stanislas Wawrinka.
"He played better … he showed greater mental strength, he deserved to win."Simple as that.
The thing about Djokovic and his post-match frankness is that it lacked any cunning, guile or false modesty. This was what he truly believed.
Having lost the opportunity to win a fourth successive Australian Open – and $2.65 million – the second-best tennis player in the world spoke as you wished other of the past week's highly-ranked and highly-strung losers would have.
Wawrinka, he said, had played the right shots at the right time, he'd taken his chances and he'd got his rewards.
For his part, he had come to play, he'd been fully fit and full of desire.
"I congratulate Stan absolutely," Djokovic said.
"There is nothing I can say …. I gave it my best, I gave it all. I tried to come out as the winner, I tried to fight till the last point.
"It wasn't enough"
"When he is playing like this, the only thing I can say is 'congratulations'."
The generosity that followed his 2-6 6-4 6-2 3-6 9-7 loss is something that has evolved in Djokovic.
The player who came onto the tennis scene as a joker and mimic was also one of doubtful commitment and sincerity.
As a 20-year-old in 2007, Djokovic became the youngest player at the time among the world's top 10. He made two grand slam semi-finals and one final that year and began 2008 by winning the Australian Open.
But immediate fulfilment proved elusive.
Djokovic didn't win another grand slam for three years, a stretch that prompted suspicion about his willingness for the fight.
His retirement on a hot Melbourne afternoon in 2009 from his Australian Open quarter-final against Andy Roddick added to the doubts, as did his failure to convert three match points against Rafael Nadal in a semi-final in Madrid in the same year.
At Roland Garros in 2010, he led 2-0 in the quarters against Jurgen Melzer, and lost.
Flashes of brilliance dot Djokovic's record during the same period, but it wasn't until 2011 when he first claimed the No.1 spot in world rankings by winning three grand slam titles, that Djokovic began to emerge as the genuine player he now is.
In the next two years, the Serb won two more majors and coming into this Australian Open had made 14 grand slam semi-finals in succession.
As his on-court achievement has grown, Djokovic has spoken like a statesman on subjects ranging from world poverty to the benefits to Balkan security of Bosnia-Herzegovina of having its first player on the world tennis tour.
But there may yet be some tennis anguish to follow the Australian Open loss.
In his search for personal security in the tennis rankings, Djokovic late last year hired Boris Becker in a bid, it is said, to improve his mental fortitude.
In their first grand slam together, the 14-semi-final streak ended, as did a 25-match winning run and the dream of a fourth successive Australian Open.
Becker may be hoping the generosity of spirit shown toward Wawrinka will extend to his him.
Don't miss the stories
followIndiaVision India News & Information
and let's be smart!