Pankaj Advani and Others Qualify for Indian Open Snooker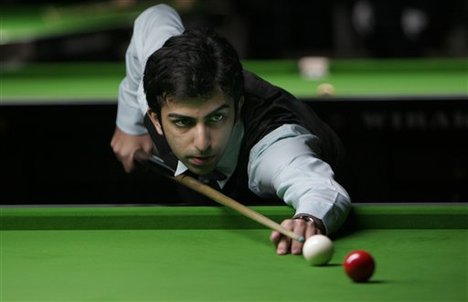 Pune: India's No. 1 snooker player Pankaj Advani along with five others qualified for the Indian Open Championships after winning their respective knockout matches, here on Thursday.
In the qualifiers which concluded at the PYC Hindu Gymkhana tables, Advani blanked Rafat Habib 4-0 while India No. 5 Faisal Khan shocked India No 2 Kamal Chawla 4-2 in a two-hour match.
India No. 3 Brijesh Damani, Neeraj Kumar, Dharminder Lilly and Sumit Talwar also qualified.
Asian snooker gold medal-winning team member Faisal won 4-2 (68-24, 131(103)-00, 25-75, 78-51, 13-77(72), 78(59)-12). In the deciding frame Chawla led 12-0.
In another interesting match, Lilly of Punjab blossomed late in the seventh frame to make a comeback and scrape past Laxman Rawat of Maharashtra 4-3 (74-11, 60-34, 10-64, 61-03, 05-60, 00-83, 64-50).
Rawat was 8 points up and missed a brown, Dharmendra had a break of 22 potting brown, blue, pink and black to turn tides in a 2:30 min thriller. In the last frame, Lakshman was up 8 points and messed on the brown while Dharmendra played calmly to clinch a break of 22 points potting brown, blue, pink and black to turn tides and win the match.
In another closely fought match, Sumit Talwar of Chandigarh upset seasoned Alok Kumar of PSPB for the top spot winning 4-3 (67-22, 51-69, 33-69, 15-51, 62-16, 59-47, 59-56).
In the decider frame Alok Kumar led 31-7, Sumit Talwar made a unbeaten break of 46 to come back and score a creditable 3-point win.
Pankaj Advani of PSPB secured an easy win over Rafat Habib of Railways winning 4-0 (84-51, 62-21, 69-05, 75(75)-00); Advani's teammate Brijesh Damani scored a 4-2 (53-57,51-41,81-414,68-36,14-72,49-04) win over Delhi's Anuj Uppal , while Railwayman Neeraj Kumar stopped the winning run of PSPB's Manan Chandra 4-1(79-16, 70-55, 86-28, 41-55, 83-37).
Don't miss the stories
followIndiaVision News & Information
and let's be smart!