Proteas skipper more of a servant than leader, says 'honoured' Amla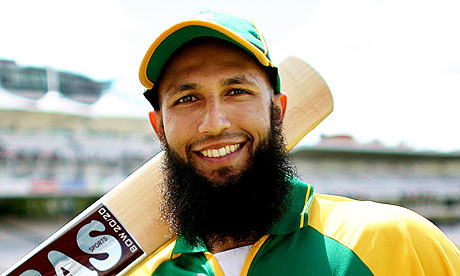 COMMON sense among sport suits can be rare, but Cricket South Africa's board got it right on Tuesday by confirming Hashim Amla as the national team's Test captain.
Cricket SA CE Haroon Lorgat said Amla was the "unanimous recommendation of the selectors", and that "the board did not take much convincing" to seal the deal.
Not that the board could go far wrong with candidates of the calibre of Amla, AB de Villiers and Faf du Plessis to choose from. Each of them would have brought different qualities to the job, but all are high-calibre people and superb players.
Happily, all three remain central to a side that will spend next season trying to find a way to perform to the levels they reached when Graeme Smith and Jacques Kallis still loomed large in their dressing room.
Amla's tenure started unsteadily when he could not locate the relevant microphone from the thicket ranged in front of him at a press conference in Johannesburg.
But nothing more could go wrong on Tuesday, and even this had its silver lining — a man who avoids giving much of himself away and who delivers something disturbingly close to perfection on the field, was rendered endearingly human.
His technical glitch quickly sorted, Amla began by acknowledging the "honour and privilege" of the responsibility that had been bestowed on him.
"For years I've concentrated on my batting, but now it's time to contribute in the team setting," he said. How would that commitment affect his primary role as the fulcrum around which South Africa's batting turned?
"My intention is to score as many if not more runs," Amla said. "But I don't know. I haven't given it that much thought; I've just been looking at the positives."
He did know that he had big boots to fill, boots that for the best part of 11 years belonged to Smith — who produced 53 victories and slipped to just 28 losses in his 117 Tests at the Proteas' helm.
"I have to pay tribute to Graeme and his leadership," Amla said. "When he decided to retire it was a surprise to us. But a lot of us — AB, JP (Duminy), Dale (Steyn), Morne (Morkel) — have played together for many years.
"It's always a collective effort. No single guy can take all the credit for the team's achievements."
Having last led a first-class team — the Dolphins — in 2004-05, he admitted that it was "difficult for me to comment on what style of captaincy I'm going to have".
That meant those who Amla felt did have something to teach him would hear from him soon.
"You don't know everything in the world," Amla said. "I'll be picking people's brains.
"In a leadership position you're more a servant than a leader. I'll be giving my heart to this position."
Despite that, he would remain his own man: "You don't try to copy anybody. I don't have any role model. I'm going to try to bring what Hashim Amla can bring."
But he was mindful that not much needed to change — "it's a high-performing Test team" — about a side that was ranked the best in the game for 21 of the past 22 months.
"It took a while to find a winning combination and we can find another winning combination. Hopefully it won't take that long. I'm positive that it won't."
South Africa are now No 2, and their bid to regain the top spot starts with two Tests in Sri Lanka next month.
"It's a tough assignment, but that's what you want," Amla said.
The new captain can look forward to more toughness from potentially his closest ally in the trenches, coach Russell Domingo.
"We have a lot of disagreements, not just about cricket, but about life," Domingo said. "Most important is that we respect each other."
Tough love between tough men has served South Africa well in the past. Back to the future.
Don't miss the stories
followIndiaVision India News & Information
and let's be smart!