All roads lead to Kingsmead: Action shifts to Durban for final Test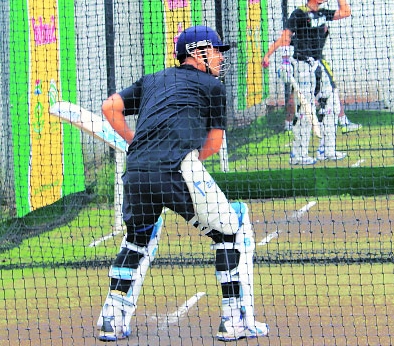 All roads lead to Kingsmead: Action shifts to Durban for final Test
There had been some activity here only a little earlier. But then a slight drizzle had sent the small posse of potential ticket-buyers scurrying for cover. By now, only five or so remained. Ticket sales for the Boxing Day Test had begun in earnest, but it didn't look like most of Durban was showing much urgency in being a Johnny-on-the-spot.
The air was humid and muggy while the skies wore a sinister, almost melancholic, look.
Two days had passed since India and South Africa had been involved in a battle for the ages with each competitor giving his best. The result was a stalemate but a more exciting stalemate you couldn't have imagined. Durban wasn't really getting ready for a potential sequel. Instead everyone in the coastal city seemed more occupied with their last-minute Christmas shopping. There were traffic-jams around the city with roads leading up to malls and shopping centers choc-a-block. In contrast, the only traffic around Kingsmead was the Indian team's bus and the token police convoy. The many commercial offices around the stadium had been long shut for the holiday season.
The Indians too followed the Kingsmead ritual of taking stock of the 22-yards in the middle. On first look, it's unlikely to have invoked any chills down their spines. For starters, it wasn't as green and fresh as the one that had welcomed them three weeks ago for the ODI. There were spurts of grass visible at some spots, but nothing that should have intimidated the Indians, fresh from their exploits in much more adverse conditions at the Bullring. Not surprisingly, Zaheer Khan and Ishant Sharma had opted out of the optional training session and who could blame them for wanting to rest their heels. Zaheer, at 35, had bowled more overs in the match than he had ever before in his long career.
On Tuesday, even the South Africans seemed keen enough to clamour around the centre-wicket rather than be content with a birds-eye view from the balcony. Kingsmead has after all been a scourge for the South Africans with the hosts having lost their four previous Tests at this venue, including the last one they played against India, back in 2010. And their last loss came against Sri Lanka, where Rangana Herath spinning a web around them with nine wickets in the match.
Graeme Smith was candid in his views about his team's poor showing at Kingsmead and insisted that Boxing Day this time around was all about retribution. "Let me just say up front overall we haven't had the best record in Durban over a period of time and we're looking forward to the opportunity to put that right now," he said.
Spin focus
While the Indians went through their routines, the one man garnering most attention was R Ashwin. Not many may have questioned his failure to take a single wicket in Johannesburg. But this was the first time that India's premier spinner had been given the opportunity on foreign soil to bowl out an opposition team on the last day with a mountain of runs to back him. And he had returned figures of 0/83 in response.
Though Cheteshwar Pujara, just like Virat Kohli had, defended Ashwin's performance in the first Test, the Indian team management may spend a few minutes deliberating a change in their spin department. It seems unlikely, though, that Ashwin will be left out. If anything, he'll be keen to build on his strong showing here during the ODI where he got the ball to grip, turn and bounce.
The Indians can only hope that their three fast bowlers recuperate well enough after having bowled their hearts out during the 136 overs of South Africa's second innings. It will also be a litmus test for Zaheer's fitness.
Curator Winston Ngobese wasn't as omnipresent as he generally is at Kingsmead but he did make a cameo appearance, taking a diplomatic stance that the pitch for the Test will be one that lasts for five days and will favour both teams. He cannot be blamed. In the last four years, it certainly has.
"It's a surface that can change every day. Stats do say that day two is maybe a more difficult day to bat than day one. But I think overhead conditions and weather conditions can play a big role here in Kingsmead. I can get hot, it can get flat and then there are times it can do a bit," said Smith about the pitch's fickle nature.
After the exciting draw at Johannesburg, India and South Africa will now fight for the series in the second and final match. In two days' time, Kingsmead, from the creaky stands to the embankments and Castle Corner, will be expected to be jam-packed, the atmosphere befitting a decider.
Steyn struggled to cope with booing: de Villiers
Durban: South Africa fast bowler Dale Steyn was left distressed after being heavily criticised by his own fans for opting against chasing victory in the drawn first test against India, vice-captain AB de Villiers said.
The hosts finished eight runs short of a world record target of 458 as they cautiously played out the final three overs at the Wanderers on Sunday, settling for a draw with three wickets in hand.
Victory would have comfortably eclipsed the current world record of 418 runs chased down by West Indies against Australia in Antigua in 2003. Steyn was at the crease with Vernon Philander and was seen instructing his batting partner to be cautious, which led to the duo being booed off the field by their own supporters despite salvaging an excellent draw from a game that India dominated for the first four days.
"Dale was really upset, he struggled to handle it," AB de Villiers, who leads the team in limited-overs matches, told reporters. "It really took Graeme (Smith) and a few guys to help him handle it immediately, because of the crowds, the booing and everyone criticising him and Vernon (Philander). They took a lot of strain and it was up to the team to pull through that but it was really tough." De Villiers, who made 103 in a 205-run stand with Du Plessis (134) to set up the chance for an unlikely victory, reassured Steyn that he made the right decision.
"A lot of people are blaming Dale and Vernon but I honestly believe that the numbers nine, 10, 11 should never be going for the runs. It's up to the top six to score the runs," he said. "If responsibility is going to be thrown around, it's on me, Faf and JP."
Don't miss the stories
followIndiaVision News & Information
and let's be smart!