Sachin Tendulkar wants ICC to organise more Test matches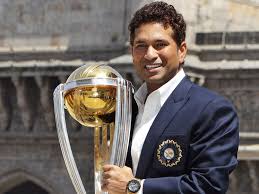 Sachin Tendulkar comes up with new idea for juniors
MUMBAI: Batting-great Sachin Tendulkar has suggested that ICC must organise more Tests if the traditional format is to survive and credited Twenty20 cricket for making the five-day matches more result-oriented these days.
Tendulkar was speaking at the ESPNcricinfo awards night after being voted Cricketer of the Generation on Friday.
"The ICC should take notice of it and organise more Test matches if they want Test cricket to survive. (However), I still believe Test cricket is in good hands, players are producing unbelievable cricket," Tendulkar, who retired in November 2013, said.
"If you see all across the world, most of the Test matches, they have results, very few Test matches are drawn games nowadays and that is due to introduction of T20 as well. It is complementing each other," the 40-year-old added.
Tendulkar said for the beginners, Twenty20 was the ideal format to follow and added that Test cricket should not be forced on players.
"If you want more guys to follow cricket, T20 is an ideal format to introduce people to cricket. And then gradually go on to one-day cricket and Test cricket.
"You can't force someone to like Test cricket or be passionate about Test cricket. It is got to be within. If it doesn't exist with some individual, you should not force him, leave him, let him play one-day and T20 cricket. The guys who are passionate about Test cricket should play Test cricket."
But he made it clear that nothing was more challenging for a player than proving himself in Test cricket.
"Test cricket is the ultimate challenge when it comes to picking up wickets or scoring runs. It is one format where bowlers are constantly trying to get you out," he said.
"In Tests, you require planning, vision and execution. It doesn't happen that much in T20 cricket. You can face three balls and get back to the pavilion as a hero. It doesn't happen in any other format," he said.
Tendulkar was of the view that T20 cricket has also impacted the One-day format, along with the new rules.
"Earlier 260 was a good total. In 92 World Cup or even 96 World Cup, there were not huge totals. Now consistently you see 300 plus totals and that this the change, which is also because of the rules and also because of T20 cricket.
"Batsmen are prepared to take more chances. Batsmen are playing innovative shots and bowlers are developing more variations. In the 90s, I don't think anyone bowled the slower ball bouncer like Shaun Pollock did in the latter stage of his career, now it's a regular variation in T20," he said.
Tendulkar spoke highly of recently-retired Jacques Kallis, saying the best thing about the South African great was that he kept reinventing his game.
"I first saw him in 1996. He looked an okay player to me and I thought this guy can become a decent all rounder. He bowled medium pace, nothing alarming. But over a period of time, he changed his batting technique and bowling ability.
"Kallis used to walk and look down at the wicket all the time. I used to jokingly tell our bowlers that the moment he figures out which way the blades of the grass are going, he is going to make us field for a long time, so make sure that before he figures out that, get him out. His strength has been his focus, his concentration," he said.
"With Kallis, his bowling I thought, sometimes it helps to be a good batsman, because you can actually read what is going on in batsman's mind. You can figure out what the batsman is trying to do…He invariably did that (thought as a batsman). He pretended that he was tired, but I knew the special ball was always going to come. That effort ball where he got a lot of bounce and this was all part of his planning."
On playing against Warne, Tendulkar said, "I first played against him in 1992 in Sydney. You could make out that Shane was talented because of the deliveries that spun big and off the wicket and he also had that zip, but he wasn't consistent I felt and he ended up giving loose deliveries."
"I think my next encounter with Warne was in Sri Lanka in 1994, we were playing a tri-nation series. Warne bowled to me and I was beaten by his flight. But I decided to go for the big one. I picked the length and fortunately that one went for a six. But Warne being a tricky character he walked up to me and tried to instigate me. My habit was to play the ball and walk over towards the square-leg umpire, that was part of my preparation – not that I didn't want to hear what Warne said.
"But I caught him after the game, he came to our dressing room to congratulate because we had beaten Australia. And that time I asked him 'Warnie, what were you trying to tell me? Now you can say.'
"He didn't say anything but from that moment we became good friends. We enjoyed our competition against each other. We started respecting each other much more and he has been a fabulous player… Playing against him was always challenging. He was a fierce competitor," he said.
Talking about his debut at the tender age of 16 against Pakistan, Tendulkar said his shot selection was not proper on that tour.
"Straight from domestic cricket to face Imran (Khan), Wasim (Akram), Waqar (Younis) was not easy. It was a huge challenge and one thing which I felt I lacked on that tour was shot selection. I had not experienced any fast bowler just bowling short of length and making the ball consistently pass around my chest or shoulder high," he said.
The iconic batsman said his innings of 114 in the 1992 Perth Test made him believe in his abilities.
"In Australia, I learnt to pick and choose, to respect the bowlers. If they are bowling well, let the ball go. Perth innings was a game changer in my career. After that I thought that I was able to take on the world, not that I was over confident, but I had a lot of belief in my own abilities."
Don't miss the stories
followIndiaVision India News & Information
and let's be smart!