Vindu Dara Singh assert Indian Premier League fixed, Vijay Mallya also into betting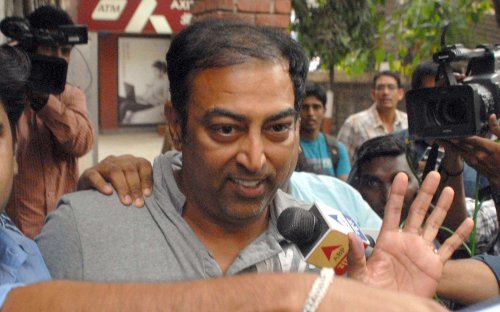 Vindu Dara Singh, one of those allegedly involved in the 2013 IPL spot-fixing scandal, has made some startling claims in a sting operation on the subject aired by Zee News, an Indian television channel. Singh claims that the real battle regarding the IPL lies in the fight between the current chief of the BCCI, N. Srinivasan, and former IPL commissioner, Lalit Modi."This entire case is actually a tussle between Modi and Srinivasan. We have nothing to do with it," Vindu tells the reporter. "Lalit Modi just needed a chance to get Srinivasan out."
Vindu: I feel bad for Sakshi Dhoni
Singh goes on to add that he was involved in betting and claims that just as he was being used as a pawn to get to Srinivasan."They (cops) said, 'We know you haven't done anything, but there's pressure from Sharad Pawar sahab and until Srinivasan isn't nabbed you will have to stay. You will have to stay here for 10-15 days or a month'," he says.
Meiyappan had lost a huge bet Singh claims. Asked why he was the chosen medium, he says: "Gurunath is Srinivasan's son-in-law. If anything is proved against Guru then…"
Singh also says that the IPL is "100 percent fixed" and that he is only aware of one owner who is directly involved in betting, Vijay Mallya."Barring Vijay Mallya nobody knows anything. Mallya is himself involved in betting, he earns 100-200 crores in IPL," he says.
Singh claims that Modi, who started the IPL under Sharad Pawar's watch, rubbed the Congress the wrong way when the took the IPL to South Africa. Back by Pawar, Modi took Shashi Tharoor, an investor in an IPL team, to task and that was the basis for this battling.
Singh's last statement though, raises questions. "Sharad Pawar is a 'great' man. These people are challenging him and we are getting dragged into it… Today you (media) are taking the fight to him — he can shut your channel," he says.
Nowhere during or after the interview, has it been explained how or in what capacity the reporter approached Vindu Dara Singh. Also, how was he able to specify to the reporter that Sharad Pawar could shut the channel in question, especially as he did not know that he was being recorded?
Don't miss the stories
followIndiaVision India News & Information
and let's be smart!