Virat Kohli needs to learn from MS Dhoni, feels Steve Waugh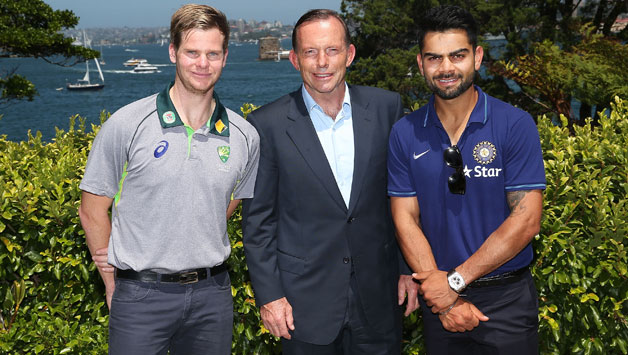 Shanghai: Australia's World Cup winning captain Steve Waugh feels Indian star Virat Kohli should learn from Mahendra Singh Dhoni to keep his emotions in check and mature as a captain.
Kohli took over the reigns of Test captaincy from Dhoni, who announced his shock retirement from the longest format post the third Test against Australia in December. The Kohli-led India were just able to draw the fourth and final match but lost the series 0-2. Waugh opines that the young leader has a lot to learn.
"Kohli has to mature. He had a few issues this World Cup. He gets a bit too animated, bit too emotional, bit too personal on some issues. As a captain you have got to develop a thick skin and Dhoni has that, nothing gets through him. So he would be a good role model for Kohli. He has to be his own man but also take a bit of what Dhoni has."
"Dhoni has never been bothered about what people say. The external things don't influence him. He just keeps it simple, goes about his job in the best that he can do on the field. I like Kohli's passion. You can't be there starting every fight when he is a captain. He has to pull it back. He doesn't have to lose that passion but just have to be a little more smart in the way he does things," Waugh told PTI at the sidelines of the Laureus World Sports Awards, here today.
Even Australia have been led by the young Steven Smith in recent times with Michael Clarke's injury making him unavailable for most of the Australian summer. Clarke joined the team in the World Cup only to quit ODIs after helping Australia clinch their record fifth 50-over World Cup trophy. READ: Michael Clarke retires from ODIs: Battered, bruised but not beaten
Waugh does not shy away from comparing Kohli and Smith as players and leaders.
"They are different personalities, poles apart, one who has his emotions in check, while the other shows his emotions all the time. Both are great players, Kohli probably has the best technique and may be Smith has best temperament. Both are exceptional talents and they are going to score lot of runs and be leaders for a long time. But there are many things to work on for sure," said Waugh.
Asked if he would like to take up the job of India coach if offered, Waugh said: "I haven't thought about it. I am not the right candidate right now. I have a good understanding of the game but I don't have coaching experience. It is a difficult job coaching India. You have to know the culture, there is a lot of expectations from the team."
"I also have three teenagers at home now, besides some business commitments. It is a great job and it would be an honour, may be five years down the line I might take it up but not now," he added.
Waugh said he sees himself more in a mentor's role now.
"I like mentoring and I would definitely want to do mentoring role. You have to take it step by step. Just because you have been an influential player doesn't mean that you can get into coaching. I will consider it if I get an offer from IPL players," he said.
Talking about India's performance at the World Cup, Waugh said: "India were the favourites but it was a big total. May be one or two down with 15 overs to go and India would have won it. They obviously have a great batting line-up and it is unfair to criticise one or two players for one off day. Pressure can do that to you. I don't think toss was decisive."
The 49-year-old was of the view that the bowlers got a raw deal in this 50-over showpiece event with the fielding restrictions and it was batsmen who dominated the game.
"It was too hard on the bowlers with field restrictions, especially in the last 10 overs. There is just no way to protect the fours and sixes and the bats are of much better quality then it used to be in my time. The bat is 15-20 per cent better and the guys are 15-20 per cent stronger and the boundaries are 20 per cent shorter, so it makes a huge difference when you combine them all. That's why batsmen are dominating one-day cricket," he said.
Regarding ICC's decision to cut down the number of teams to 10 from 14 next edition, Waugh said: "I like 12 teams. I was impressed with teams like Afghanistan and Ireland. I think the only way they are going to get better is by experience. So I think ICC needs to have shorter games. I thought six weeks was too long. I am disappointed that there will be just two associate teams next year."
On corruption in cricket, he said: "It will be naive to think that it is not happening. ICC is doing a pretty job at the international level but the danger is at the leagues and Twenty20 competition. These have potential to get influenced by wrong forces. Players are well educated. It is the strong captains and leaders who dictate the moral compass of the players."
Don't miss the stories
followIndiaVision India News & Information
and let's be smart!