A day of remembrance for the women of Turkey and Syria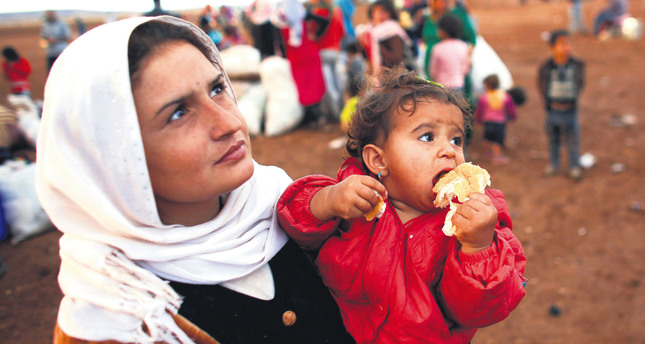 Turkey marked International Women's Day yesterday with nationwide events where problems women face were highlighted and debated. For Turkish women, domestic violence and discrimination are among the major issues they face, like women in the rest of the world. For displaced Syrian women in Turkey whose number is estimated to be around 850,000, which makes up almost half of the total population of Syrians in the country, the biggest problem is being forced to live away from home due to an ongoing war that has claimed the lives of tens of thousands of people in four years.
Over 6,000 women have been killed in the Syrian conflict according to unofficial figures, and far more have taken shelter in neighboring countries, including Turkey, Jordan and Lebanon. Hadija Athem, a mother of nine, is among them. The 36-year-old fled her home in Hama with her children after warplanes of the Syrian regime forces dropped bombs on their abode. She lost a leg in the airstrike in 2013, and her husband went missing amid turmoil of the civil war that year. Athem joined the exodus of Syrians and managed to reach Reyhanlı, a Turkish border town in Hatay province.
Living in a makeshift tent and with aid delivered by charities, Athem only complains of being away from her husband and her home. "I have heartache because I am far from my homeland. I pray every day for the war to end so that my children will have a future at home," she says, pointing to her children, the oldest age 14.
"I haven't heard from my husband in two years. I don't know whether he is alive or dead," she gravely says. Hobbling around the cramped tent, she does not complain except about having to act slower while cooking for her children and washing their clothes.
Other Syrian women are luckier than Athem, as they have found a place in 25 refugee camps in Turkish cities bordering Syria, yet they share her yearning for a life back at home.
In Elbeyli, a camp in Kilis, some 1,500 women fend off this yearning and tedium by learning handcrafts that also help them make a living on the side. Camp officials handpick widows and orphans for the classes, particularly those that bring income such as carpet weaving. They can earn TL 600 monthly for carpets they weave. Fatma Najjar, a widow, took shelter in Turkey nine months ago with her children and sisters. She started weaving carpets six months ago and hopes to continue this newly learned profession once she returns to her country after the war." Farida al-Hussein, another widow, first attended Turkish classes in the camp for better communication with their Turkish hosts. "I then discovered the carpet weaving classes and immediately signed up. Now I can make a living for my four children," she says.
Hadija al-Hajji is a resident of a Syrian refugee camp in Kahramanmaraş. She has "no plans" to celebrate the day when there is a war in her country. She is grateful for all the help Syrians have received in Turkey. "Women in Syria have nothing. They don't have any rights. But here, we have every freedom, and the government helps us with all our needs," she says.
Jamili Amir echoes al-Hajji's sentiment. "Women in Turkey have every right. They can work, and they can go out freely (unlike in Syria)," she says.
Indeed, women in Turkey have every right, but they still face exclusion and discrimination in a number of fields. Turkey was one of the first countries to grant suffrage to women in the early 20th century, but women's position in this patriarchal society has shown little progress in the following decades. They barely have any representation in politics and often fail to climb up to the higher ranks in the private and public sectors. This has changed in recent years with women raising their voices and men listening more, though there is more to do.
Prime Minister Ahmet Davutoğlu marked the day with women in the southeastern province of Mardin where he attended a panel entitled "Changing and Improving the Position of Women in Turkey" and said what has changed for women and what will.
Davutoğlu said every day that women are respected is "Women's Day." He pointed out that violence towards women in Turkey was often wrongly associated with Turkish culture and Islam. "Respect and affection towards women are part of our ancient culture and our faith. Women, as mothers, teach morals, values and a culture based on these to generations. Our faith does not approve of any discrimination against women. On the contrary, it exalts respect for women and holds her esteemed among humans," he said.
Newly released figures from the Turkish Statistical Agency indicate that the female population in Turkey lacks social inclusion and literacy rates though they are "hopeful" about their future. The number of illiterate females is five times higher than the illiterate male population, according to 2013 figures, which show that 9.4 percent of the female population is illiterate, compared to 1.9 percent among men. Figures reveal the situation is not so different among women who graduated from school. For instance, the proportion of higher education graduates is 10.7 percent among women, compared to 15.1 among men. Turkey has long been fighting to boost education levels for women. Twelve years of compulsory education was introduced in 2012 and regulations bringing heavy fines for parents not allowing their children to attend school are linked to a drop in the number of illiterate girls, but Türkstat figures show there are still a considerable number of illiterate women in the country.
Women also suffer from fewer employment opportunities compared to men. Among the population aged 15 and above, the percentage of women employed is only 27.1, way behind Turkey's neighbor Greece, which scored worst among European Union member countries with a 39.9 percent female employment rate. Figures also point to the obvious: Women with higher education have more participation in the labor force, at 72.2 percent. Figures reveal that the proportion of women climbing up to the higher ranks in bureaucracy has not undergone any significant change and remains at 9.4 percent.
As for politics, Türkstat's statement on statistics related to women's inclusion in political life says the proportion of female lawmakers was 4.5 in 1935 and has risen to 14.4 percent in 79 years. It also points out that there is only one female minister in the cabinet.
In light of these figures, it is only natural to assume that women are not happy. Indeed, Türkstat notes a drop in the percentage of women declaring their happiness in 2014 was 60.4 percent, a slight decline compared to 61.9 percent in 2013.
Certainly, concern over domestic violence and violence towards women in general overshadows these figures. With awareness to the issue plaguing the country on the rise, authorities pledge to do more to combat it.
The government is looking into ways to implement more effective judicial measures and ways to raise more awareness to the issue among the public.
Davutoğlu said in Mardin that his government called upon the public to mobilize against domestic violence and violence against women. "We cannot condone violence in any way, and we should be united on this matter," he said. Davutoğlu noted that his government and past AK Party governments changed the view on this issue through awareness campaigns. "It is not a matter confined to Turkey, and it is prevalent in other parts of the world. For instance, one third of women are subject to violence according to a survey conducted in 28 European Union countries," he pointed out.
The prime minister said they would work to increase the number of women working in the public sector and the number of female lawmakers.
He pointed out that the government announced a package of regulations to protect the family and dynamic population that particularly aimed to address the problems of working women. He said paid maternity leave was extended gradually for each child a working woman has and called upon opposition lawmakers to endorse draft bills to boost women's place in social life. He said they were planning new regulations that will help women both to keep their jobs and care for their children up until they reached an age they can attend primary or nursery school.
As for domestic violence, Davutoğlu said they would set up centers to observe domestic violence trends, to curb them as well as help and protect the victims.
He said they prepared a new action plan to curb violence that was composed of legal regulations bringing tougher sentences, awareness campaigns and education of students for "a change in the mindset" amid other measures.
Davutoğlu also mentioned that an electronic tagging system that enables tracking of domestic violence convicts and their victims to keep them separate from each other had officially been inaugurated in Ankara and İzmir on Women's Day and would be launched all across the country in the near future.
President Recep Tayyip Erdoğan also released a statement celebrating International Women's Day.
Erdoğan promised to continue working to make the lives of women better and easier, and to encourage their participation, both in the economy as well as politics.
"I believe that our educated, brave and self-confident women in every field will help our country reach a developed level," he said.
Stressing his determination to combat violence against women, the president called on women to protect their own rights and to stand up to violations against them.
Public reaction to the violence was mostly confined to protests by women's nongovernmental organizations until last month. The brutal murder of Özgecan Aslan, 20, apparently changed this as nationwide protests following the incident proved. Aslan was stabbed, had her hands cut off and burned, allegedly when she resisted a rape attempt in the southern Turkish city of Mersin.
On Women's Day, thousands of women gathered on Istanbul's Asian side to mark the day. Women carrying banners denouncing violence marched to Kadıköy Square amid slogans.
For female laborers toiling in fields and orchards in the western city of Aydın, International Women's Day is largely "symbolic." Nurdan İnlidere, 23, is one of them. "It is no different from any other day of the year for me. As usual, I woke up early and came to work here to pick olives. It is a one-day celebration for women, but I can't celebrate it if I can't earn money today," she told Ihlas News Agency. It is not toiling away in fields and orchards that make it difficult to observe the day, but rather, injustice in fees they are paid. Young woman, like other female laborers, are paid TL 40 a day while men are paid TL 60 in a blatant display of discrimination against women doing the same job as men.
Don't miss the stories
followIndiaVision India News & Information
and let's be smart!