Arab states mull air strikes on ISIS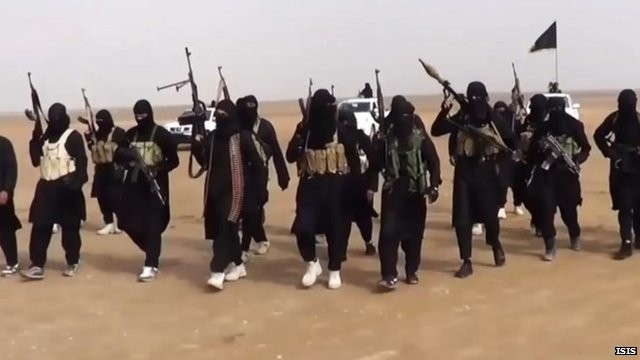 PARIS: Several Arab countries have offered to carry out airstrikes against militants from the Islamic State in Iraq and Syria, senior US state department officials said on Sunday.
The offer was disclosed by American officials traveling with US secretary of state John Kerry, who is approaching the end of a weeklong trip that was intended to mobilize international support for the campaign against ISIS.
"There have been offers both to Centcom and to the Iraqis of Arab countries taking more aggressive kinetic action," said one of the officials, who used the acronym for the United States Central Command, which oversees military operations in the Middle East.
Kerry, who is in Paris to attend an international conference the French are hosting on Monday on providing aid to the new Iraqi government, has already visited Baghdad; Amman, Jordan; Jidda, Saudi Arabia; Ankara, Turkey; and Cairo.
During Kerry's stop in Jidda on Thursday, 10 Arab countries joined the United States in issuing a communique that endorsed efforts to confront and ultimately "destroy" ISIS, including military action to which nations would contribute "as appropriate."
American officials said that the communique should be interpreted as meaning that some, but not all, of the 10 Arab countries would play a role in the military effort.
The United States has a broad definition of what it would mean to contribute to the military campaign.
"Providing arms could be contributing to the military campaign," said a second State Department official. "Any sort of training activity would be contributing to the military campaign."
Still, while the United States would clearly have the dominant role in an air campaign to roll back ISIS's gains in Iraq, it is clear that other nations may also participate.
President Francois Hollande of France told Iraqi officials that his country would be willing to carry out airstrikes against ISIS in Iraq, senior Iraqi officials said.
"We need aerial support from our allies," Prime Minister Haider al-Abadi of Iraq said during a joint news conference with Hollande on Friday. "The French president promised me today that France will participate in this effort, hitting the positions of the terrorists in Iraq."
Prime Minister Tony Abbott of Australia has also said that his country will join the air campaign and is sending as many as eight FA-18 attack planes, as well as an early warning aircraft and a refueling plane.
The Australian aircraft will operate from the United Arab Emirates. Australia is also sending 200 troops, including commandos, to serve as advisers to Iraqi soldiers and the Kurdish pesh merga forces.
The state department officials, who asked not to be identified under the agency's protocol for briefing reporters, did not say which Arab nations had offered to carry out airstrikes, and there are also other ways Arab nations could participate in an air campaign against ISIS without dropping bombs, such as flying arms to Erbil in the Kurdistan region or Baghdad, conducting reconnaissance flights or providing logistical support and refueling. The officials said the Arab offers were under discussion.
"I don't want to leave you with the impression that these Arab members haven't offered to do airstrikes because several of them have," said the first State Department official. "The Iraqis would have to be a major participant in that decision," the official added. "It has to be well structured and organized."
Iraqi officials have already offered some thoughts about what the next step should be. In recent weeks, the United States has focused its airstrikes on the defense of Erbil, securing the Mosul Dam and protecting the Haditha Dam.
But Abadi has asked the United States to take action on the Syrian side of the Iraqi-Syrian border to deprive ISIS of the safe havens it enjoys in that area. Massoud Barzani, the president of the Kurdish autonomous region, made a similar request in telephone call with Kerry on Saturday night, State Department officials said.
"The Iraqis have asked for assistance in the border regions, and that's something we're looking at," the first state department official said.
Iraqi officials have long experience working with the United States military and appealed for American airstrikes against ISIS fighters in Iraq months before the Obama administration decided to conduct them.
But the Shia-dominated Iraqi government has no experience in working with militaries from Sunni states in the Persian Gulf.
Arab nations have the capability to conduct air operations. Saudi Arabian planes participated in the American-led coalition that evicted Saddam Hussein's Iraqi forces from Kuwait in 1991.
And the United Arab Emirates sent F-16s and Mirage fighters to join the 2011 international military intervention in Libya that eventually led to the ouster of Col Muammar el-Qaddafi.
Last month, the UAE carried out airstrikes against Islamist allied militias in Libya, operating out of bases in Egypt. The Obama administration was not consulted in advance of that operation, American officials have acknowledged.
While indicating a willingness to carry out airstrikes inside Iraq, France appears to have reservations about bombing targets inside Syria. But some Arab states appear to have no such inhibitions.
"Some have indicated for quite a while to do them elsewhere," the first State Department official said. "But, again, we've got to sort through all that, because you can't just go and bomb something."
Iraq has a small air force and a limited capacity to deliver accurate airstrikes. The civilian casualties from some Iraqi attacks have been exploited by ISIS to try to mobilize popular support against the Iraqi government.
On Saturday, Abadi sought to reassure Sunnis that Iraqi forces would not risk civilian casualties by using artillery or conducting airstrikes against ISIS targets in heavily populated areas.
"They have a very new air force," a third State Department official said, referring to the Iraqi military. "Their targeting is not nearly as precise as ours and they have made some real mistakes."
Much of the air campaign is intended to support Iraqi armed forces that are still in the process of being reconstituted and new Iraqi National Guard units, which will include Sunni tribal fighters but which still need to be established. A Pentagon program to train and equip the moderate Syrian resistance also has yet to be carried out.
The time-consuming mission to train these ground forces is essential because they are needed to control territory after ISIS fighters are pushed out, and the Obama administration has ruled out sending American ground troops. But it will slow the pace of the campaign to contain, degrade and eventually destroy the group, a process that officials said last week could take three years.
"This is not the '91 gulf war," the first State Department official said on Sunday. "It's just a different type of campaign."
Regarding other military support, Saudi Arabia has agreed to provide bases for training moderate Syrian rebels. American officials say there have been similar efforts by other Arab countries, but declined to identify them.
Iraq's foreign minister announced on Sunday that the new Iraqi government had received a political lift when Saud al-Faisal, Saudi Arabia's foreign minister, promised that his country would open an embassy in Baghdad. But no date for opening an embassy was given and the announcement noted that "security issues" would first need to be resolved.
But in a setback for the effort to portray the campaign as a partnership with Muslim-majority states rather than a Western intervention, an influential Muslim scholar on Sunday declared his opposition to the American action even though he said he was also against ISIS.
"I disagree completely with ISIS in thought and means, but I do not accept that America fights them," said the scholar, Sheikh Yusef Qaradawi, leader of the International Union of Muslim Scholars, in a Twitter message reported around the region. The United States, he said, "is not moved by Islamic values but by its own interests, even if it spills blood."
Sheikh Qaradawi, an Egyptian-born cleric based in Doha, Qatar, who is a popular television preacher and close to the Muslim Brotherhood, has been a vocal opponent of ISIS for months. In July, his scholars' union declared ISIS's self-proclaimed caliphate "null and void," arguing that its extremism stigmatized more mainstream Islamists and undermined broader Sunni opposition movements in Syria and Iraq. Now his criticism of the American role may increase the fears of a backlash against Arab governments that publicly join the campaign.
Don't miss the stories
followIndiaVision News & Information
and let's be smart!