Iraq attacks and shelling kill 35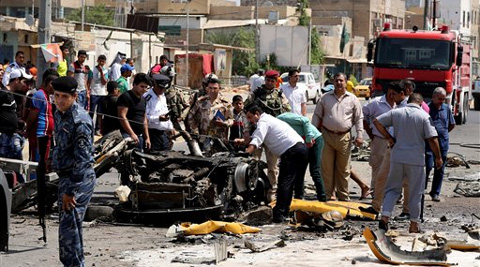 BAGHDAD: Violence across Iraq, including shelling of the conflict-hit city of Fallujah, killed 35 people today, as politicians haggle over forming a new governing coalition after April elections.
Iraq is going through its worst protracted spell of violence since it emerged from a brutal Sunni-Shiite conflict that killed tens of thousands in 2006 and 2007, with near-daily attacks plaguing Baghdad and much of the north and west.
The worst of today's bloodshed was concentrated in Fallujah, which has been under the control of anti-government fighters since the beginning of the year.
Shelling in the city, which lies just a short drive west of Baghdad, killed 18 people and wounded 43 others, according to Ahmed Shami, a doctor at Fallujah hospital.
The shelling, which hit a market, municipal offices and in the vicinity of the hospital itself, struck at around midday, said an AFP journalist in the city.
Fallujah has been out of government hands for months, with militants holding sway. The army has regularly shelled the city, and attempted multiple ground offensives in a bid to re-take it.
The army insists it is targeting militant hideouts, but residents and human rights groups say civilians are bearing the brunt of the shelling.
Human Rights Watch also said last month that authorities have likely violated the laws of war by targeting Fallujah hospital.
Meanwhile, attacks in and around Baghdad killed nine people, security and medical officials said.
In Iskandiriyah, militants killed five people — two with guns and three with knives — along a main road in the town before fleeing the scene. It was not clear why the victims were targeted.
The town lies in a confessionally mixed area south of Baghdad dubbed the "Triangle of Death" for its brutal violence during the peak of the sectarian war.
In the capital itself, a civil servant was shot dead, while separate attacks on Baghdad's northern outskirts killed three people.
Further north, attacks in Salaheddin, Nineveh and Kirkuk provinces killed eight people, six of them members of the security forces, officials said.
Don't miss the stories
followIndiaVision India News & Information
and let's be smart!