IS jihadists execute Iraqi journalist, 12 other people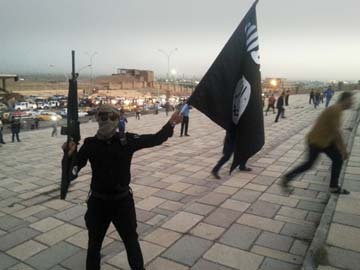 SAMARRA, Iraq: Islamic State militants executed an Iraqi news cameraman and 12 other people on Friday in several towns and villages north of Baghdad, officials, relatives and witnesses said.
The jihadists shot dead Raad al-Azzawi, a 37-year-old cameraman for local news channel Sama Salaheddin, his brother and two other civilians in the village of Samra, east of the city of Tikrit, relatives of the journalist said.
"IS executed him, his brother and two other people in public today," one relative said, speaking on condition of anonymity for fear of retribution from the jihadist organisation.
According to the media watchdog Reporters Without Borders (RSF), the father of three was detained by IS on September 7.
"They came to his home and took him and his brother," the relative said. "He did nothing wrong, his only crime was to be a cameraman, he was just doing his job."
"There must have been some people in the village who accused him of working for the government and tipped him off the jihadists… He always had his camera with him," he said.
According to an RSF statement issued last month, the Islamic State group had threatened to execute Azzawi on the grounds that he had refused to work for them.
After targeting religious and ethnic minorities in the areas it took control during its broad Iraqi offensive four months ago, IS has recently executed dozens of people it suspects of any connection with the Shiite-dominated government.
IS executed nine other people north of Tikrit on Friday, all of them on suspicion of ties to anti-jihadist Sunni grassroots organisations, according to security officials and witnesses.
In the town of Az-Zab, 90 kilometres (55 miles) west of the oil hub of Kirkuk, six people were executed in public.
"IS executed four residents of the lower part of Az-Zab and two from villages near Az-Zwiya," a few miles further to the west, a local security official said.
Witnesses said the six were accused of being involved in efforts to organise Sunni resistance to IS in the Hawija region. They were executed on a marketplace, they said.
It was in the same area that residents of the village of Tel Ali burned an IS flag last month.
In retaliation, the jihadists abducted 50 residents and put up flags across the region, even booby-trapping some of them to stop locals from removing them.
In Baiji, about 35 kilometres (20 miles) to the south, three men were beheaded on Friday, a security official in the region said.
The official said the three men had been abducted a few days earlier and were former members of the Sahwa organisation funded by the US military to combat Al-Qaeda in 2007-08.
Don't miss the stories
followIndiaVision India News & Information
and let's be smart!