Saudi militants behind attack on Defence Ministry: Yemen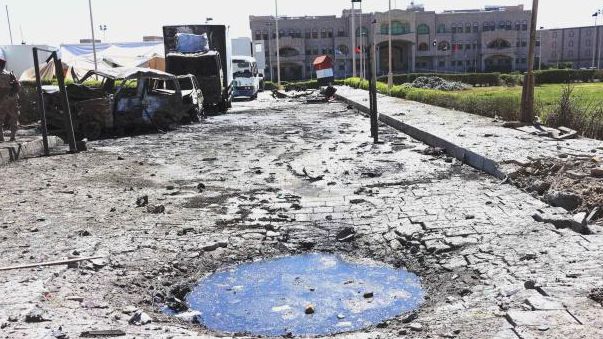 Saudi militants behind attack on Defence Ministry: Yemen
Saudi militants were behind the massive car bombing and assault on Yemen's military headquarters that killed more than 50 people, including an Indian nurse and other foreigners, investigators said in a preliminary report.
Al-Qaeda claimed responsibility for the attack, saying it was retaliation for U.S. drone strikes that have killed dozens of the terror network's leaders.
The attack — the deadliest in Sana'a since May 2012 — marked an escalation in the terror network's battle to undermine the U.S.-allied government and destabilise the impoverished Arab nation despite the drone strikes and a series of US-backed military offensive against it.
Military investigators described a two-stage operation, saying heavily armed militants wearing army uniforms first blew up a car packed with 500 kg of explosives near an entrance gate, then split into groups that swept through a military hospital and a laboratory, shooting at soldiers, doctors, nurses, doctors and patients.
Officials earlier said 11 militants were killed, including the suicide bomber who drove the car. It was not clear if the 12th attacker was captured or escaped.
The investigative committee led by Yemen's Chief of Staff Gen. Ahmed al-Ashwal, on Friday said militants shot the guards outside the gates of the military hospital, allowing the suicide bomber to drive the car inside, but a gunfight forced him to detonate his explosives before reaching his target. It said the 12 militants killed, included Saudis.
The report also raised the death toll to 56 and said more than 200 people were wounded. The foreigners killed included two aid workers from Germany, two doctors from Vietnam, two nurses from the Philippines and a nurse from India, according to Yemen's Supreme Security Commission.
Two military officials said that wounded soldiers had told them the assailants who stormed the hospital separated out the foreigners and shot everybody in the head.
Other military officials said American security agents were helping with the investigations, but that could not be confirmed. All officials spoke on condition of anonymity because they were not allowed to brief reporters.
Yemeni commandos and other security forces besieged the militants before they could reach the ministry's main building, preventing them from going further than the ministry's entrance gate.
Yemeni security forces launched a manhunt in the capital to find the perpetrators, sparking gunbattles that killed five suspected militants and a Yemeni commando, officials said.
The committee, which sent its report to Yemeni President Abed Rabbo Mansour Hadi, did not explain how it came to its conclusions. The report was read on state TV.
Al-Qaeda in the Arabian Peninsula, as the group is known, is the product of a merger by the group's Yemeni and Saudi branches after a crackdown in the powerful neighbouring kingdom. Among its leaders is another Saudi, Ibrahim al-Asiri.
Don't miss the stories
followIndiaVision News & Information
and let's be smart!