Syrians fleeing war face hardship in Balkans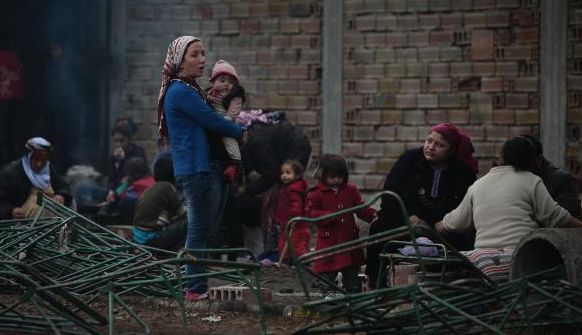 Syrians fleeing war face hardship in Balkans
Thousands of Syrian and other refugees from the West Asia and Africa, who make a dangerous journey from their war-ravaged countries, often end up in crammed settlements in the Balkans after being blocked at the borders of wealthy Western European nations.
"We left our country to look for a peaceful, better place to live, where we could give our children proper education," Hassan (44) said sitting by a fire outside his tent in the Harmanli camp in southern Bulgaria. "But now we see that Bulgaria is a poor country which struggles to provide food for its own people."
Aid officials say that the humanitarian situation is particularly alarming in Bulgaria, which has faced massive influx of migrants that far outnumbers its capacities. Bulgaria, one of the EU's newest and poorest members, borders Turkey a Muslim nation that has become a magnet for Syrians fleeing the war.
"It is very important that all European countries keep their borders open, accept Syrian refugees and provide them with adequate assistance," said Antonio Guterres, the United Nations High Commissioner for Refugees.
After visiting a refugee camp in Sofia on Friday, Mr. Guterres pledged support for Bulgaria in its efforts to provide adequate protection and assistance to Syrian refugees, saying the agency will send a technical assistance team this week to Bulgaria.
"It is appalling that people seeking refuge in the European Union are being trapped in limbo in such awful conditions with winter rapidly approaching," said Barbora Cernusakova, an EU team researcher at Amnesty International.
Medecins Sans Frontieres, or Doctors Without Borders, warned of "appalling conditions in reception centers and a disastrous lack of medical assistance."
The group said that "hundreds of people find their only option is to sleep outside in unheated tents, while others crowd together in disused school classrooms because the reception centers are unable to cope with such a number of people."
Sometimes, they have just one toilet for fifty people, while entire families do not receive enough food to eat, the group said in a statement.
"I have only one request- to be moved to a house or a caravan," said Mr. Hassan, a Kurdish pharmacist. "Soon, there will be snow and it will be impossible to live (in the tent) with the children."
"Most of us have relatives, parents in other countries such as Germany, the Netherlands, Sweden, Finland," Hassan said. "We want to leave immediately, to live like all honourable people."
About 10,000 migrants, mostly from Syria but also from Afghanistan and Iraq, have arrived in Bulgaria from Turkey since January, generally using hidden routes to cross the border illegally. The influx has overstretched the country's aid system which, according to officials, can only accommodate about 5,000 people.
Thousands more refugees have sought to reach western Europe through Greece, Macedonia, Albania, Montenegro or Serbia. Entire families have been on the road for months, taken across borders by human smugglers, who pack them into trucks or boats or lead them on foot. The migrants often travel without documents and are vulnerable to being robbed of belongings and savings, which they need to pay the smugglers.
Last week in Greece, twelve people believed to be Syrian, including four young children and their father, drowned after the speedboat they were hoping to use to smuggle them to Italy capsized. Another 15 people survived the accident near the western island of Lefkada.
In Bulgaria, protests erupted in a refugee camp in a suburb of the capital Sofia, when Kahtan al Omar, a 35-year-old migrant, from Syria died of a heart attack a week after he arrived with his wife and three children. His wife said her husband had complained of chest pains, but received no aid and the ambulance arrived an hour after he died.
The Sofia camp is located in an old, vacant school, where people are jammed in run-down classrooms, with just a few toilets and showers, and no proper place to prepare food. The rooms are divided by sheets that barely provide a modicum of privacy.
People in the camp rely mostly on donations distributed by the Red Cross. Most are waiting for Bulgarian authorities to issue documents that will formally identify them as Syrians, which would help them seek asylum elsewhere in the EU.
The procedure takes time, officials said.
"We understand that they want their documents to be immediately processed, but we have respective laws and regulations that we are following," said Nikolay Chirpanliev, the head of Bulgaria's government-run refugee agency.
The refugee influx also burdens neighbouring Serbia, a Balkan country that borders EU member states Hungary and Croatia making it a transit point for migrants.
A Serbian asylum centre in the central village of Bogovadja is full and hundreds of migrants sleep outside. Those kept out are granted just one meal a day. Migrants say that asylum-seekers who manage to reach the EU are often deported back to Serbia, Macedonia, Greece or Bulgaria where they wait a while and try again.
In an effort to stem the tide, authorities in Bulgaria are preparing to build a 3-metre-high fence along the border with Turkey that is expected to be ready by February.
"Today access to Europe has become virtually impossible for refugees, including Syrians fleeing the horrors of the war," said Ioanna Kotsioni, the head of the Doctors Without Borders mission in Bulgaria.
"Walls are being built in Greece, and soon in Bulgaria, forcing the most desperate to seek ever more dangerous routes."
Don't miss the stories
followIndiaVision India News & Information
and let's be smart!