sraeli strike targeted Hamas military chief, group leader says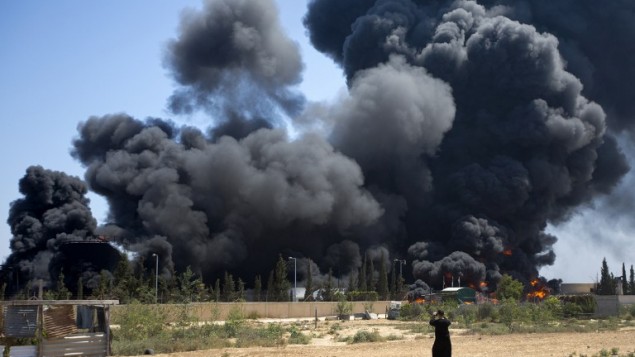 Israeli and Palestinian officials traded blame early on Wednesday for the collapse of the Cairo negotiations aiming to secure a long-term truce in Cairo.
Hamas claims that Israel attempted to assassinate the group's military chief in Gaza City on Tuesday, thus violating a temporary cease-fire; Israeli officials say the Israel Defense Forces had resumed strikes on Gaza in response to rocket fire from the enclave.
Some 50 rockets and mortar shells were fired toward Israel on Tuesday, targeting the Tel Aviv and Jerusalem areas as well as the south.
The Israeli delegation to the truce talks left Cairo on Tuesday afternoon, and sources said the Palestinian delegation is set to leave on Wednesday, with no deal and no announcement of an extension of the cease-fire.A spokesman for Prime Minister Benjamin Netanyahu rejects Palestinian charges that Israel was to blame for a breakdown in ceasefire talks in Cairo, saying rocket fire from Gaza "made continuation of talks impossible."
Spokesman Mark Regev responded to Palestinian negotiator Azzam al-Ahmed's charge that Israel had thwarted the talks that broke down on Tuesday after Israel recalled its negotiators from Egypt, accusing Hamas of violating a truce.
"The Cairo process was built on a total and complete cessation of all hostilities and so when rockets were fired from Gaza, not only was it a clear violation of the ceasefire but it also destroyed the premise upon which the talks were based," Regev said.
Al-Ahmed, the head of the Palestinian delegation in Cairo, said earlier that "Israel thwarted the contacts that could have brought peace … there was an Israeli decision to make the Cairo talks fail.Despite the collapse of the talks, officials at Palestinian President Mahmoud Abbas' office say he intends to travel to Qatar and meet Hamas political chief Khaled Meshal. On Friday, Abbas is scheduled to arrive in Cairo and meet with Egyptian President Abdel-Fattah al-Sissi.
A Palestinian official told Haaretz that Ramallah is no longer convinced that Hamas – especially its leadership outside Gaza – can make independent decisions. "The estimates are that the organization is dependent on the decisions of the global Muslim Brotherhood movement, with its center in Turkey," he said.
The official also said that the Palestinian leadership has reliable information pointing to talks held in the past two days between Meshal and Turkey's President Recep Tayyip Erdogan.
Despite all this, Ramallah also believes that Israel is to blame for the breakdown of the talks, refusing to engage in a political process with the Palestinians and especially with Hamas, due to Prime Minister Benjamin Netanyahu's political considerations.
The Palestinian Authority is already losing hope in an American intervention, and is therefore considering turning to other international actors, namely Russia. This shift was also evident in the meeting Tuesday in Moscow between Palestinian chief negotiator Saeb Erekat and Russian Foreign Minister Sergei Lavrov.
Don't miss the stories
followIndiaVision News & Information
and let's be smart!