HIV-tainted blood, needles caused infection, say patients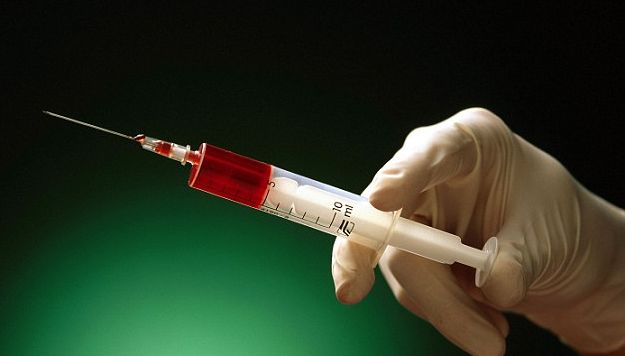 HIV-tainted blood, needles caused infection, say patients
New Delhi – Ritesh and Bhawana Godse (name changed), a couple from Nagpur living with HIV-AIDS for the past five years, claim it was carelessness on the par! t of a hospital in Gujarat that resulted in their being infected with H! IV-contaminated blood.
The story is the same for Naresh and Pinky Yadav (name changed) from Vrindavan, and Santosh and Ritika Mishra from Bihar. These couples too blame careless blood transfusion for their infection with the AIDS virus.
"I had fallen very sick while working in Gujarat, so the HIV-AIDS virus must have got into me either through the needle jabs or the blood infusion given to me," Ritesh Godse, who has been on HIV-AIDS treatment for nine years, told IANS.
In the case of Godse's wife, the virus was detected five years ago. They have the support of their family but have not told their two sons.
"The kids are still studying, so I do not want them to get affected. We have hidden it from them," Godse said.
Naresh Yadav claims the virus was transmitted to his wife when she was given infected blood by a relative during childbirth.
"The person who gave the blood was a relative. He hid his infection from us but the hospital! in Rajasthan did not test the blood before it was given to my wife," Naresh Yadav, 48, told IANS. He has been receiving HIV-AIDS treatment for the last five years.
But for the Yadavs, their two sons and a daughter have been a source of great support in battling the virus. They are careful not to let anyone in their village know about their infection.
"I never indulged in anything bad in life but then see what turn destiny has taken in my life," Yadav said, teary-eyed.
Santosh Mishra from Bihar too claims the infection has been acquired because of frequent needle jabs while he was ill. His infection was then transmitted to his wife.
"I suffered from a lot of sickness in my childhood. The only marks I have in my arms are of needle jabs, so I must have acquired the disease through them," Mishra, 36, who has four children, told IANS.
An official from the Delhi Network for People Living With HIV/AIDS (Dnp+) said that there are chances of peop! le getting the HIV-AIDS infection through infected blood transfusion an! d contaminated needles, but added that since 1992 a mandatory check on blood donors is in place.
"I wonder why people failed to take action earlier. Moreover, as there is no scientific way to prove the reason for transmission of the virus one can only assume," Loon Gangte, of Dnp+, told IANS.
The detection and treatment for those infected with the virus is an expensive affair in India.
"I am a labourer so I do not have much money. In government hospitals we have to wait long for our turn," said Mishra.
But for such infected people, there is some relief as the AIDS Healthcare Foundation (AHF) India has been providing free medicines and blood tests.
"We provide people with anti-retroviral therapy (ART), which consists of the combination of at least three ARV drugs to maximally suppress the HIV virus and stop the progression of HIV disease, which leads to AIDS," V. Sam Prasad, clinical affairs manager AHF India, told IANS.
There are mo! re than 500 registered people living with HIV/AIDS (PLHIV) who are getting treatment at AHF India.
"We follow World Health Organisation guidelines of initiating ART for clients with CD4 (a type of white blood cells that fight the infection) at less than 500," added Prasad.
According to National Aids Control Organisation (NACO) data, the estimated number of people living with HIV-AIDS has decreased from 24.1 lakh in 2000 to 20.9 lakh in 2011.
Don't miss the stories
followIndiaVision India News & Information
and let's be smart!