Men do check out women's breasts every time they look at them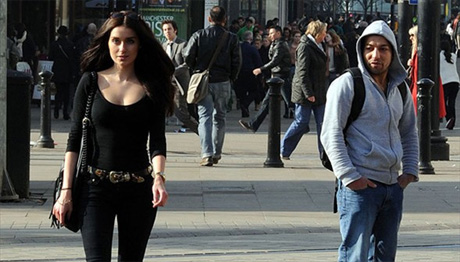 Men do check out women's breasts every time they look at them
Washington – Eye tracking technology has officially reconfirmed that people look at the sexual body parts more and faces less when evaluating women's appearance.
The study was led by Sarah Gervais of the University of Nebraska-Lincoln in the US, and found that especially women with typical hour glass figures or larger breasts, narrower waists, and bigger hips frequently prompted such gazes.
The study is among the first to use eye tracking technology to examine objectified glances by which men, especially in Western cultures, purportedly often "ogle," "leer at" or "check out" women.
Due to these objectifying gazes, American women develop social physique anxiety, and show decreased cognitive performance and self-silencing.
This is because this type of attention reduces them to mere instruments in which their bodies are taken as being representative of their whole being.
Previous research primarily used women's self-reported experiences of this phenomenon.
Gervais and her colleagues used the Eyelink II eye tracking system to examine how 29 women and 36 men from a large Midwestern University in the US reacted to digitally manipulated photographs of the same group of models with various body shapes.
The researchers found that participants focused more on women's chests and waists and less on faces when they were asked to objectify the women by evaluating their appearance rather than their personality.
This effect was more pronounced for women with hour glass figures, idealized in Western cultures, and to a lesser degree by women with smaller breasts and bigger hips who fall outside of cultural ideals of beauty.
Compared to their female counterparts, the male participants distinguished between women with different bodies shapes regardless of whether they were focused on appearance or personality.
Women with high ideal bodies (i.e. hour glass figures) were generally regarded more positively than women with average or low ideal bodies – interestingly enough, even by personality-focused men.
The study is published in Springer's journal Sex Roles.
Don't miss the stories
followIndiaVision India News & Information
and let's be smart!