Jayalalithaa found guilty in disproportionate assets case; protests erupt in Tamil Nadu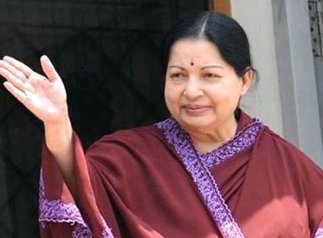 Population, capacity should dictate size of state allocation: Jayalalithaa
Bangalore: In a huge setback to J Jayalalithaa, a special court on Saturday held the Tamil Nadu Chief Minister guilty of amassing Rs 66.65 crore wealth disproportionate to known sources of her income during her first term in office. Her conviction has led to violent protests in Tamil Nadu.
Following this verdict, Jayalalithaa, also known as Amma (mother) by her party cadres, is disqualified as a member of Tamil Nadu Assembly. The big question now is who will head the government in the absence of Jayalalithaa.
Pronouncing the order amid tight security, Special Judge John Michael D'Cunha held AIADMK general secretary Jayalalithaa guilty of amassing wealth disproportionate to known sources of her income under Sections 109 and 120 (b) of the Indian Penal Code (IPC) and 13 of the Prevention of Corruption Act, 1988, said Special Public Prosecutor G Bhavani Singh.The Special Judge, who had directed all the accused to be present in his court on the judgement day, will pronounce the quantum of sentence in the 18-year-old case shortly.
Jayalalithaa's close aide Sasikala Natarajan, her niece Ilavarasi and her nephew and the CM's disowned foster son Sudhakaran were also convicted.
The judge pronounced the order in a special court set up in the central jail at Parapanna Agrahara in the city's southern suburb amid tight security.
Reacting to the verdict, All India Anna Dravida Munnetra Kazhagam (AIADMK) workers mourned, while Dravida Munnettra Kazhagam workers celebrated outside party president M Karunanidhi's Gopalapuram residence in Chennai.
Meanwhile, AIADMK supporters pelted stones at Karunanidhi's house following the verdict. Notably, security has been heightened at the DMK headquarters and residences of its senior leaders. Police said that on a request from DMK, security had been increased at "Anna Arivalayam", the headquarters of DMK, two residences of former Tamil Nadu chief minister and DMK president M Karunanidhi and the residence of Anbazhagan, party's general secretary. DMK party office in Coimbatore has also been closed. All roads leading to M Karunanidhi's residence have been cordoned off.
If the judge sentences her to imprisonment for a period not less than two years, the AIADMK leader will stand disqualified immediately from the Assembly and may have to step down as chief minister.
Hailing the decision as significant, Communist Party of India (CPI) leader D Raja said the verdict will have an impact on Tamil Nadu politics.
The prolonged trial saw five judges – AS Pachapure, AT Munoli, BM Mallikarjunaiah, MS Balakrishna and John Michael D'Cunha.
Amid tight security, Jayalalithaa arrived in Bangalore this morning after flying in by a special aircraft at the HAL Airport along with the other accused and reached the court by road.
During the court proceedings, security forces lathicharged Jayalalithaa's supporters holding protests outside Parappana Agrahara prison complex.
Police are also closely checking vehicles with Tamil Nadu registration at the check post at Attibeli on the border. AIADMK supporters had gathered at the border but were stopped by police, who have been deployed in strength.
The area around the court was turned into a fortress as the platoons of Karnataka State Reserve Police, the city Armed Reserve and the Rapid Action Force were deployed, besides hundreds of police personnel, including those in plain clothes.
A large number of AIADMK supporters had gathered since early morning.
Prohibitory orders have been clamped in and around the Parappana Agrahara prison complex.
The Rs 66.65 crore assets case dates back to Jayalalithaa`s first term as the Chief Minister, from 1991 to 1996. It was filed before a special court in Chennai in 1997 by the Tamil Nadu's Department of Vigilance and Anti Corruption (DVAC).
The case was transferred to Bangalore's Special Court in 2003 by the Supreme Court on a petition filed by DMK leader K Anbazhagan who had expressed doubts over conduct of fair trial with Jayalalithaa as Chief Minister.
Jayalalithaa, who has waged many legal battles and seen several ups and downs in her political career, had to quit as the Chief Minister immediately after her swearing in 2001 following the Supreme Court declaring null and void the action of the then Governor Fatima Beevi appointing her as the Chief Minister as she had been sentenced to two years rigorous imprisonment in a corruption case.
O Paneerselvan, a junior Minister in her Council of Ministers, was appointed as the Chief Minister of Tamil Nadu. By 2002, she was cleared of all charges and sworn-in again as the Chief Minister.
Appearing before the court four times, Jayalalithaa has answered 1,339 questions in closed door hearings during which she has maintained that the case was "politically motivated" and "fabricated" at the instance of her rival DMK.
Controversy also swirled around the case after Karnataka Advocate General BV Acharya quit as Special Public Prosecutor and Bhavani Singh came in his place. Questions were raised in the Supreme Court over appointment of Singh also.
The case was filed by Subramanian Swamy in 1996. She was arrested and jailed for some days after DMK came to power in the 1996 Tamil Nadu Assembly polls.
The Karnataka government has so far spent Rs 2.86 crore on playing host to the case, according to documents obtained by an RTI activist.
'Jayalalithaa a fighter`
Friends and foes are in awe of Jayalalithaa, who is the tallest Brahmin politician in a state where anti-Brahminism is a part of political discourse.
Even her critics admit that Jayalalithaa is a fighter and has an iron grip over her party.
The judgment against her was delivered in a state where she was born.
Born in what was then known as Mysore on Feb 2, 1948, Jayalalithaa moved to Chennai with her mother, who started acting in movies.
Jayalalithaa studied at the Bishop Cotton Girl's High School in Bangalore and another Christian convent, Church Park, in Chennai. A bright student, Jayalalithaa ventured into acting and made her debut at the age of 16 in a Kannada movie.
Her first Tamil movie was the memorable "Vennira Aadai". But it was the grand success of "Aayirathil Oruvan" pairing with the legendary M.G. Ramachandran (MGR) that turned Jayalalithaa into a leading light of Tamil movie world.
She has paired with almost all the leading Tamil heroes. She has acted in over 100 movies, mostly in Tamil, Telugu and Kannada.
A charismatic leader who is at home in Tamil, English and Hindi (a rare quality in Tamil Nadu politics), Jayalalithaa has also sung many songs and written several stories. But when she entered politics, few could have predicted her meteoric rise.
AIADMK founder-leader MGR made Jayalalithaa the party's propaganda secretary in the early 1980s. In 1984, she entered the Rajya Sabha.
Jayalalithaa, who chose never to marry, was elected to the Tamil Nadu Assembly for the first time in 1989. Just two years later, she became the chief minister, sweeping the election of 1991 held in the wake of former prime minister Rajiv Gandhi's assassination.
She lost her huge mandate within five years amid corruption charges.
Don't miss the stories
followIndiaVision News & Information
and let's be smart!