Sheikh Hasina rules out mid-term polls in Bangladesh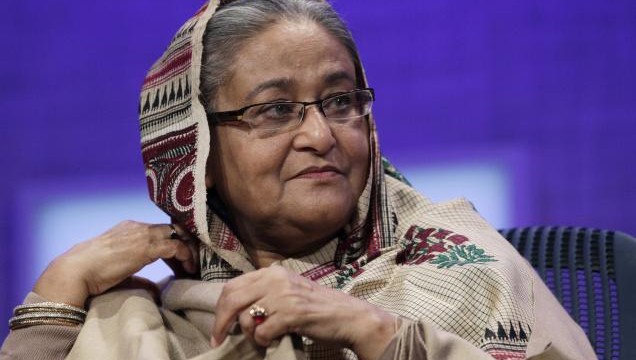 Bangladesh ministers quit for poll-time government formation
Prime Minister Sheikh Hasina has ruled out holding mid-term polls in Bangladesh or the possibility of having a dialogue with the Khaleda Zia-led Bangladesh Nationalist Party (BNP).
Interacting with Bangladeshi journialists in New York on the sidelines of the 69th session of the United Nations General Assembly (UNGA), Sheikh Hasina said that as nothing wrong has happened in the country after the January 5 general election, there was no question of considering or even contemplating the need for a mid-term poll.
According to the Daily Star, she also dismissed the allegation of an entente between her government and the fundamentalist Jamaat-e-Islami in the wake of the Bangladesh Supreme Court commuting its leader Delawar Hossain Sayedee's death sentence to imprisonment unto death.
"Why should there be a mid-term election? What are the problems for which we should go in for a mid-term election, and for whom are we going to hold the mid-term election? Is it to put the party in power that was created by power usurper Ziaur Rahman?" she questioned.
The interaction with the press took place at the Bangladesh Permanent Mission to the United Nations in New York.
As regards opening a dialogue with the BNP, Sheikh Hasina said she has nothing to do as per the parliamentary form of democracy for the party which is outside parliament.
"What dialogue? With whom?" she asked.
When a reporter pointed to having a dialogue with the opposition party, she questioned about the definition of opposition party as per parliamentary democracy.
"Opposition party! Which is the opposition party? What does it mean by opposition party in a parliamentary democracy," the prime minister asked.
As a journalist said about BNP which is now outside parliament, Hasina replied: "The party which is outside parliament is outside parliament; what can I do for that?"
She said that it was the BNP that had boycotted the election, it was their decision, and not hers.
She also said that the judiciary in Bangladesh is completely independent. "We can't interfere in the judiciary. If the independent judiciary gives its verdict, how can there be an entente?" she questioned.
When her attention was drawn to the recent remarks of BNP leader Khaleda Zia at a public meeting in Brahmanbaria asking the ruling party leaders, including Prime Minister Sheikh Hasina, to get ready with their passports and visas so that they could flee the country hurriedly to avert the public's wrath, the Prime Minister said, "Bangladesh is my birthplace, while Khaleda Zia was born in a tea garden of Siliguri (India). So, I don't need to take a visa, she needs to."
Don't miss the stories
followIndiaVision News & Information
and let's be smart!