Unfair games being played between people and AAP: Yogendra Yadav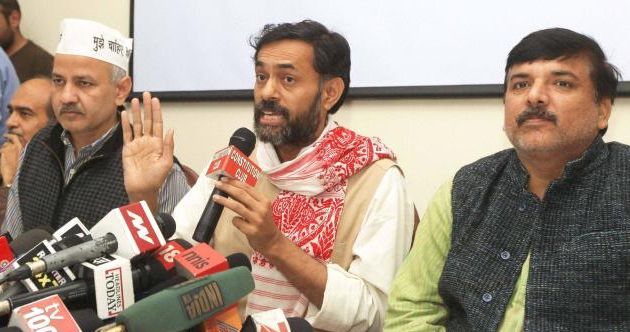 Unfair games being played between people and AAP: Yogendra Yadav
Kausambi (Ghaziabad, Uttar Pradesh) – Aam Aadmi Party (AAP) leader Yogendra Yadav on Monday charged political parties opposed to the AAP with playing and indulging in unfair games to create a gap between the people of Delhi and AAP.
"The people of Delhi in their wisdom have decided to give us 28 seats. You can say it is unfair on someone's part to give us only 28 seats. There is something unfair about it, because there was so much buzz around the city, so much excitement, hope, energy. It translated into 28 seats. What do we do now? There is lot of unfairness; I would not blame the people. I think there is something in between people and us, which played some very unfair games," Yadav said.
Another AAP leader Sanjay Kumar said: "We will neither give our support to the Bharatiya Janata Party (BJP) nor take support from the Congress Party. This is our stand and, we will not move from it. In today's meeting too, we have reiterated these views."
AAP finished a close second in the Delhi elections with its 28 seats. The BJP got 31.
AAP is led by mild-mannered former civil servant Arvind Kejriwal who has vowed to end the Congress and BJP stranglehold of the capital and beyond, and clean up politics in the process.
Kejriwal defeated the three-time chief minister of Delhi in her own constituency and his party came close to winning control of the city. The challenge for him now is to grow his movement in time for national elections due by May – a task that could pit him against leading opposition candidate Narendra Modi.
The metropolis of Delhi is a city-state with a burgeoning population of about 16 million.
The remarkable rise of the bespectacled Kejriwal from the ashes of a street protest movement two years ago has shaken national parties which, only days before Sunday's results, had dismissed the buzz around the new party as hype.
Kejriwal promises transparent political funding in a country where parties often deal with unregistered bags of cash, and offers populist policies, such as slashing electricity prices, that appeal to both the middle class and poor Delhi residents.
The party's door-to-door campaigning on a shoestring budget performed well against the multi-million-rupee advertising blitzes and mass rallies of the Congress and the BJP.
Don't miss the stories
followIndiaVision News & Information
and let's be smart!