Tongue piercing can help paralysed people drive wheelchairs better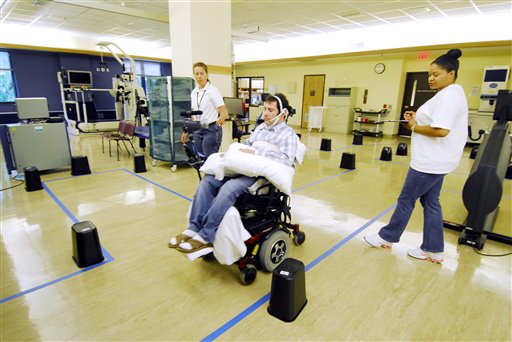 Tongue piercing can help paralysed people drive wheelchairs better
Washington – A new study has claimed that users of tongue-controlled wheelchair can gain a higher level of independence than offered by wheelchairs with sip-and-puff systems.
In the study, individuals with paralysis were able to use a tongue-controlled technology to access computers and execute commands for their wheelchairs at speeds that were significantly faster than those recorded in sip-and-puff wheelchairs, but with equal accuracy.
This study is the first to show that the wireless and wearable Tongue Drive System outperforms sip-and-puff in controlling wheelchairs. Sip-and-puff is the most popular assistive technology for controlling a wheelchair. In such wheelchairs users sip or puff air into a straw mounted on their wheelchair to execute four basic commands that drive the chair.
The Tongue Drive System is controlled by the position of the user's tongue. A magnetic tongue stud lets them use their tongue as a joystick to drive the wheelchair. Sensors in the tongue stud relay the tongue's position to a headset, which then executes up to six commands based on the tongue position.
The Tongue Drive System holds promise for patients who have lost the use of their arms and legs, a condition known as tetraplegia or quadriplegia.
"The Tongue Drive System is a novel technology that empowers people with disability to achieve maximum independence at home and in the community by enabling them to drive a power wheelchair and control their environment in a smoother and more intuitive way," said Northwestern co-lead investigator Elliot Roth, M.D, chair of physical medicine and rehabilitation at Feinberg and the medical director of the patient recovery unit at Rehabilitation Institute of Chicago. "The opportunity to use this high-tech innovation to improve the quality of life among people with mobility limitations is very exciting."
Researchers compared how able-bodied subjects were able to execute commands either with the Tongue Drive System or with a keypad and mouse.
For the first time, the research team showed that people with tetraplegia can manoeuvre a wheelchair better with the Tongue Drive System than with the sip-and-puff system.
The study is published in the journal Science Translational Medicine.
Don't miss the stories
followIndiaVision India News & Information
and let's be smart!