Clarke selection call a turning point – Marsh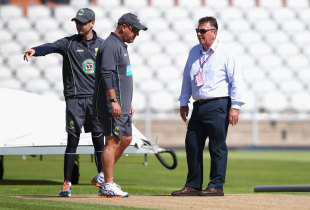 Australia's new chairman of selectors Rod Marsh has pointed to Michael Clarke's resignation from the selection panel following the dire 2013 tour of India as a pivotal moment in the team's resurgence to their current perch at the top of the world rankings for Test and ODI matches.
The 2011 Argus review that helped install Marsh as part of a new panel also appointed Clarke as one of the selectors, an arrangement that became fraught as early as December of the same year when the chairman John Inverarity conceded the dual role was creating "extra difficulty" for Clarke in his interactions with the team. By the end of the 4-0 hiding on the subcontinent a little more than a year later, Clarke decided that he needed to devote less time to selection teleconferences and more to a side that was fracturing in the absence of the retired Ricky Ponting and Michael Hussey, as exemplified by the suspension of four players in Mohali for failing to follow instructions. While Darren Lehmann's appointment to replace Mickey Arthur as coach has been commonly noted, Marsh said Clarke's call was equally significant.
"Quite a few things have occurred, but I think one of them, which seems to probably get overlooked a little is that Michael gave away his selection duties, which I think freed him up a lot to be able to interact with the team a lot more at training sessions, and off the field," Marsh said. "Michael we all know is an outstanding on the field captain, but I think his off-field captaincy has flourished since he stepped down as a selector, and you can understand that. It's very difficult for him to operate off the field when he's both captain and selector.
"That's freed him up a lot, Darren has brought a no fear feeling to the boys, he's encouraged them to go out and play with freedom and of course getting Mitchell Johnson back into the team and bowling well has just been an absolute bonus because if you remember we had very good, young fit fast bowlers a couple of years ago who've all had injuries and as a consequence it was nice to have one of the old timers, for lack of a better word, back and bowling like the wind."
Marsh spoke frankly about his selection philosophy ahead of a period in which Australia will not only seek to retain their ranking but also lift the World Cup at home in 2015 and hang onto the Ashes in England later in the year. The age of the squad is not a major concern to him, though he hopes to see more young batsmen pushing for inclusion in coming summers. Until then, however, the likes of Chris Rogers will remain verymuch a part of his plans.
"I don't think you can read too much into blokes' ages these days," Marsh said. "The game has changed so dramatically from 20 or 30 years ago whereby it's become a profession, and these guys are professionals, they work very hard on their fitness etc. They play cricket almost every day of the year and if they're not playing they're training or travelling. A 35-year-old today is certainly not like a 35-year-old 20 years ago cricket-wise, it's completely different. In an ideal world it would be nice to have a lot of young blokes in the side and we can't wait for that to happen – if you had three or four 19 or 20-year-old champion batsmen making 1500 runs in Shield cricket that would be fantastic, we would all want that.
"David Warner and Steve Smith have both held up very well over the last couple of series. Obviously Chris Rogers will not be around forever, he's like all of us getting older by the day. However the same guy has just made 241-odd not out in a run chase for 472 earlier this week [for Middlesex], so he wants to keep playing cricket for Australia, and while he's still in really good form it'd be very difficult to leave him out. We do have to plan ahead and we're just waiting for young players to step up and get a truckload of runs, that's what we need and want."
In the case of Smith, Marsh said the panel had chosen to have him concentrate on Test matches while he was still developing his game, but expected the 24-year-old to move into the team across all formats in coming months. Though Marsh did not name him as such, the tactically astute and mentally strong Smith is the man in line to become Australia's next long-term captain.
"Steve Smith is a hell of a good cricketer," Marsh said. "When we get to sit down and choose the side for the next World Cup I'd be very surprised if his name doesn't come up. He's also a very good T20 cricketer, but at the moment our policy has been he's just starting to establish himself in the Test arena, we've perhaps robbed Peter to pay Paul to a degree by saying 'well just keep him out of that for the moment. But we think Steve Smith will be a fine cricketer in all forms for Australia."
In addition to his selection duties, Marsh has also overseen the development of a unified coaching philosophy around Australia over the past two years. He reiterated his belief in the rigorous teaching of technical basics and their grounding in plenty of match-play, as no coach can help a cricketer to tweak a failing in the middle of an innings or a bowling spell.
"Within the game there are basics of technique in whatever you do. If you are taught the basics well early and learn them well, you've always got something to fall back on, because whenever you make a mistake I can promise the answer lies in the basics," he said. "The good cricketers are the ones who can correct things on the run – when they're out there in the middle you haven't got the coach to tell you to do this or that, you've got to work it out for yourself. If you've made mistakes you've got to be able to identify how to correct those mistakes on the move.
"I don't think our batting is as good as it should be for a nation of our strength. With the facilities we've got, with the coaching staff we've got in all states, with the talent we've got I don't think our batting is good enough. Technically I don't think it's good enough, and I think there's been a period where technique hasn't been taught as well as it could've been and I think we've got to get back tot he basics. All our coaching through Australia has got to get back to the basics of the game, and we don't want people to make their mark as a coach unless their mantra is first of all you teach the basics. It's the only way forward as far as I'm concerned."
Don't miss the stories
followIndiaVision India News & Information
and let's be smart!